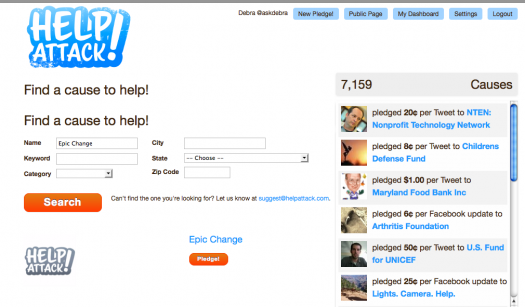 Social fundraising tool for nonprofits turns messages into donations
Guest post by Ehren Foss
CEO, HelpAttack!

Nonprofits may be interested in what HelpAttack! brings to the social fundraising party. When a donor uses HelpAttack!, each tweet or Facebook update can be a donation, with no need to tag, re-post or change your habits as a donor. It's a way to seamlessly add giving to your online life.

HelpAttack! was the brainchild of Sarah Vela, David J. Neff and myself. Everybody was asking Sarah to donate, and before long she was saturated with asks. What if, she thought, the message itself – the tweet, the donation link, the uploaded photo of a proto-mustache – was the donation?
The concept is simple: a penny a tweet could be donated to your favorite nonprofit or cause, no matter what the tweet is about.
Her idea was simple: a penny a tweet could be donated to your favorite nonprofit or cause, no matter what the tweet is about. No need to tag, retweet or change your social media habits in any way. And a more harmonious, slightly less spammy Twitterverse.
Since its initial rollout, HelpAtack! has expanded on that original idea. HelpAttack! has added Facebook pledges and features for cause organizations to create their own page and messaging. Recently, we added a few additional types of pledges: You can now give when someone else tweets or when hashtags and other terms appear on Twitter. Simply decide which organization will receive your donations, assign a donation amount per tweet or Facebook update (or assigned hashtag or term), a maximum donation amount and tweet or update, away.
A simple process to begin raising funds for your cause
HelpAttack! has 7,195 nonprofits for people to choose from in our database, and as of today, 163 distinct nonprofits have received donations, totaling $15,510. We currently have about 900 users. To get started, there's a simple sign-up process:
Go to helpattack.com.
Add the HelpAttack! Twitter or Facebook app via the giant buttons.
Choose a cause (or ask us to add your favorite).
Set a limit for your giving and an amount per update.
We'll email you a couple times to let you know how it's going.  That's it!
Does it make you tweet or Facebook less? HelpAttack! donors frequently tell us they make more updates rather than fewer, hoping to reach a certain level of giving ("three more tweets to $25!"). In addition, many donors choose to share their pledges with their networks on Twitter and Facebook. For example, from 35 original pledges, the American Red Cross has grown to more than 500 total pledges and more than $12,300 pledged through its fan base sharing and donating. You can read more in our April case study, and also one with the Best Friends Animal Society.
The Arthritis Foundation, DonorsChoose, U.S. Fund for UNICEF and other causes have also tried HelpAttack! and found success within their communities. HelpAttack! partners with First Giving to process the donations, and a total of 8.25% goes toward credit card fees, our partners and running our service. HelpAttack! priced it this way – with no fees per sign-up, no monthly cost or transaction fee – so that our goals (donations, awareness, effectiveness) align with those of the nonprofit.
Tips on how to best use the service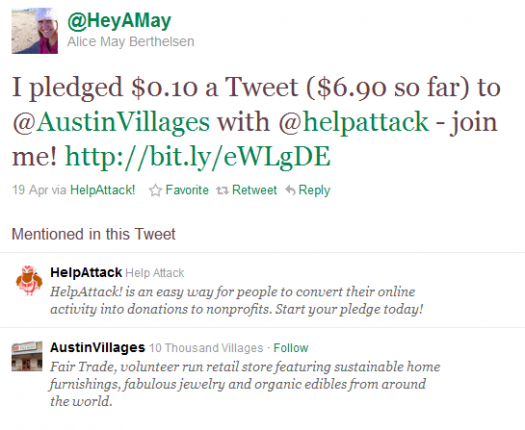 Here are some quick tips on how to best use the platform:
If you only have a few hundred supporters on Twitter and Facebook, work to build and strengthen those communities first.
Also, if you haven't ever posted a link to your regular donation page on social media, give that a whirl!  People want to give.  Ask them and make it easy.
Sign up and make one tweet or Facebook update about HelpAttack! It's free, try it! Rather than spending a month crafting a campaign, just see how your community responds, measure, iterate and go from there.
What else could be more social than giving by just tweeting or updating your Facebook status? If you're curious, have questions or are interested in mixing it up with matching funds, cause marketing, employee giving or anything at all, just let us know!
Fundraising series on Socialbrite
• What social fundraising means for your nonprofit
• Social fundraising tools: Our top 5 picks
• Fundly: Tap into your supporters' social networks
• GoodThreads: Custom T-shirts as a fundraising tool
• HelpAttack!: Unleash the charitable power of social media
• Rally: Raise money for your favorite cause
• Mobile: The next frontier of nonprofit fundraising