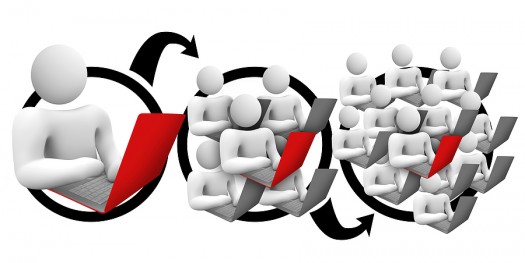 Image by iqoncept for Big Stock
Find out how Facebook can help your nonprofit increase engagement
Target audience: Nonprofits, NGOs, cause organizations, social enterprises, brands, social media managers, marketing professionals, bloggers, individuals.
Ilove the new Facebook Insights. Unlike so many other changes that Facebook has sprung unexpectedly on us, the new Insights is a welcome change. I think it is such a significant change that it is a game-changer in the social media space. If I sound gushy, well, I am. With the new Insights metrics, Facebook is boldly telling the Facebook community and its competitors that the most important social network metric is real online engagement. As I've written before, if your page cannot ultimately move people to take action, then your organization is wasting its time with Facebook. Online engagement is how it begins.
Know how engaging your content really is
Everything about the new Facebook Insights is focused on helping page administrators understand how well their page's content is being received, shared, and talked about within Facebook. No longer do we have to count up Likes, fan posts to walls, and comments on posts, and pull together the online engagement percentage. And what's more, we can dive deep, very deep, by post. By who is seeing the posts, and where. By how the content is being shared, and what type of content is being shared. That's just the beginning. The Facebook metric that matters now is engagement. Here are but three examples of how Facebook is highlighting engagement.
Likes vs. PTAT (People Talking About This)
Think about the bold statement Facebook is making when it shows this publicly on every Facebook page, for all to note: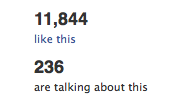 In one glance, which number is more important? With simplicity and sharpness, Facebook turned the Like numbers game into a "how many really care" numbers game. Brilliant.
Engagement by post
You can also drill down by post. New Insights is designed to help you understand which posts created the most Reach (impressions, who saw it), or highest number of Engaged Users (who clicked on it), or highest number of those who Talked About This (Liked, shared it, commented on a post). The old Insights offered a blanket number of impressions and feedback percentage by wall post, which merely offered a sense of reach and interest. A post like this one (below), which 2,200+ Facebook users could have seen, only had 56 clicks on it and 9 users who commented or Liked the post. The real engagement metric on this post is 56. And nine people who were really engaged.
What types of posts are the most engaging? Figure that out and improve your PTAT score (People Talking About This). Go get 'em!

Understanding how your content engages people
I also love that you can tell which of the wall posts took off due to either organic, paid or viral traffic. Look at those posts, figure out what happened there, and create more content like that. Understand the difference between the posts that "go viral" and those that are seen because of organic traffic. Greater reach ultimately will attract new fans and people Talking About your page and posts.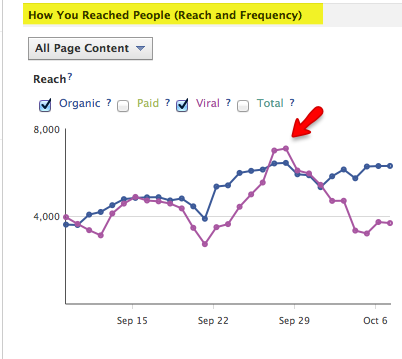 So this is the future of measurement. Thank goodness. Facebook has made the first move in this direction. It's is a great start.
Twitter, YouTube, Google+, you're next.
Related
• How to use the new Facebook Insights (John Haydon in Socialbrite)
• Guide to social media metrics — social influence measurements, social media ROI, stats to measure on Facebook and Twitter, metrics and analytics tools & more

This work is licensed under a Creative Commons Attribution-NonCommercial 3.0 Unported.