Why embracing data should be an important part of your leadership strategy
Target audience: Nonprofits, NGOs, cause organizations, social enterprises, brands, businesses, social media managers, marketing professionals, individuals.
I recently presented a workshop titled "Data Driven Leadership" at the Massachusetts Nonprofit Network/AGM annual conference along with colleagues Marc Baizman and Steve Backman. The question we addressed in the workshop was: What online data can help a leader make informed decisions around programming, advocacy and fundraising? Marc, Steve and I have expertise in Google Analytics, in understanding customer segmentation and databases, and in identifying social media metrics, respectively. Each of us thought about how the data from our respective areas of expertise could shed light on an answer. The hardest part was choosing what to eliminate from our presentation, as we only had one hour to cover this enormous topic!
Getting started with gathering data
We created a DIY worksheet for the session titled, "Make Your Data Work for You." It offers sample questions to get you started thinking in the areas of marketing, programs and services, development, and volunteers and advocacy. For every sample question, it asks you to set the priority level, consider what data you'll need to answer that question, and where you can find the answer. There are a lot of spaces for you to customize the worksheet to your needs. You can read and download the worksheet.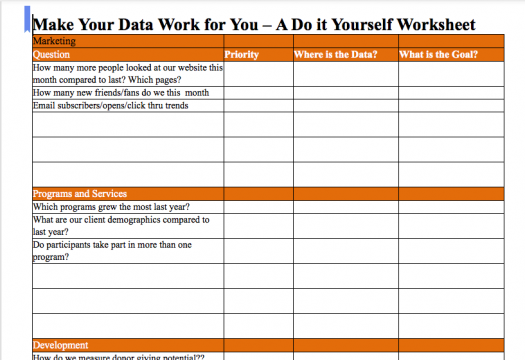 For every leader, thinking about the real organizational questions that the data could offer is the place to begin.
Below are summaries of our segments of the presentation, written individually by each of us. You can also view the SlideShare presentation above for the complete takeaways.
Using data from Facebook Insights
I focused on four questions that have implications for advocacy, programming and fundraising:
How many people care about the organization, and how deeply?
What do fans care about the most, and how deeply?
What is the organization doing to reach the most people?
What do you know about who cares about the organization?
Facebook has made answering the question of how many people care about the organization, and how deeply, very simple: Look at the "People Are Talking About" metric on the organization's Facebook fan page. Facebook Insights is all about fan engagement now, and helping page administrators understand what content fans want to engage with the most. For a deeper dive into the newest version of Facebook Insights, take a look at my post about the upgrades to Facebook and Delicious.
To understand the power of page post metrics, I highlighted a news story republished by Hebrew University that questioned Einstein's Theory of Relativity. Looking at the per-post measurements, the wall post had higher engagement than the general PATA metric and was shared by so many fans that it had tremendous viral lift. By looking for patterns in per-post engagement, we can also see that similar news and science stories are popular with fans of The Hebrew University's page. Knowing what fans are most interested in hearing about from the organization should guide future alumni communications and fundraising.
Last, thinking about demographics also offers programming, advocacy and fundraising guidance. Facebook Insights break down the demographics of your fans as well as the demographics of who is talking about you (that PATA metric). In some cases, who is talking about your page, "the super-engaged," may have different demographic characteristics than page fans.
The value of Web analytics
Marc Baizman focused on Web analytics. Web analytics can be a great tool for you to use, but you need to clearly define what indicators are important to your organization, and then you need to take action based on what the data tells you! Marc focused on asking several simple questions that Web analytics can help answer, such as:
How many people look at our site?
How do people find our website?
What are people looking at?
What do we want people to do, and are they actually doing those things?
While he offered these sample questions, you should formulate your own questions based on what's important to you. Remember that although Google Analytics is free, your staff's time isn't, so get help if you need to. A good place to get free help is the Analysis Exchange.
Use smart segmentation to sort data to your advantage
Steve Backman focused on "smart segmentation." Segmentation often comes across at first as an alien, corporate marketing concept. Steve discussed how any organization, large or small, with the best of contact management software or a collection of spreadsheets can begin to benefit from a smart segmentation framework. To reach the largest possible audience in the most effective way, you need to understand and operate from your organization's constituent groups.
Organizations may take satisfaction in how their monthly e-mail stats rise and fall, or overall response rates to a fund appeal, advocacy campaign or event. To go deeper, you need to look proactively at how you characterize your contacts. You need to work through how to connect critical data from these separate connections and activities to generate a full picture. Steve encouraged data managers to have more passion in understanding their organization's constituency and putting the available data at the service of organizational goals. He used quick examples from Constant Contact stats and Salesforce reporting to stress an overall framework: Find indicators that support you goal and measures you can collect.

This work is licensed under a Creative Commons Attribution-NonCommercial 3.0 Unported.