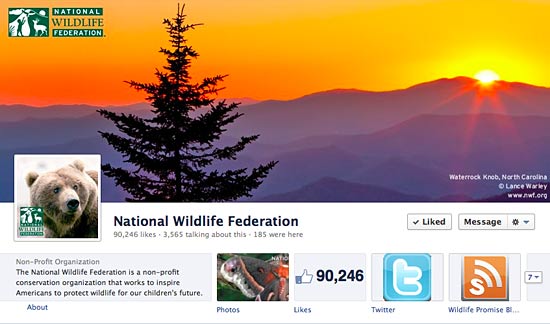 The new National Wildlife Federation page on Facebook.
Target audience: Nonprofits, foundations, NGOs, social enterprises, cause organizations, brands, businesses, Web publishers — anyone with a Facebook Page.
Editor's note: Facebook is switching over all nonprofit and business pages to the new Timeline format this Friday, March 30. Because so many organizations haven't yet made the move, or are still figuring out the best approach, we're devoting this week to help you get ready to make the transition smartly. Contact Socialbrite if you need help.
In this series:
• Monday: 7 tips & cheat sheets to help you implement the new Timeline
• Tuesday: How to shape your nonprofit's message in Timeline
• Thursday: What story should you tell in Facebook Timeline?

Like it or not, if you administer at least one Facebook Page, you'll need to face the music Friday when the new Timeline format will go live on all nonprofit, brand and business pages.
I actually opted to switch my business Page over to the new Timeline when it was offered to me, and overall, I like the format a lot. But many people don't feel the same.
Comfortable with a format that worked for brands
The thing is, we were comfortable with the old format. It allowed brands to set up default landing pages, so when a new visitor arrived at their pages, they would be prompted to first "like" that page in order to access discounts and other promotions.
Companies loved this feature because it allowed them to convert visitors into fans without much work or paid advertising on their part.
It's not fun being made to get up out of a comfortable armchair, is it? Seventy percent of people polled on Sodahead voted against the new Timeline.
Businesses have been so furious that they will not be given the option to keep the old page design that some threatened, in discussions on posts such as this one, to stop using Facebook entirely. But if you're like most companies, deleting your Facebook Page isn't really an option. The network has become so ubiquitous that customers have come to expect companies to have a Facebook presence.
And with over 845 million active users on Facebook, most companies can't afford not to be on Facebook.
Tips on maximizing the new Timeline
My friends at Hy.ly are dedicated to solving small business problems. So they've just released a new eBook titled "Facebook Timeline for Conversions & ROI." It's free. I've had a look at it and I really like it (and tell me what you think of the design as well when you read it. I think it's pretty nifty).
It's not very long, and it gives you some really practical advice on not freaking out over the new Timeline, but making it work for you. Here are three of their tips:
Recover lost traffic
1Immediately after your Page is converted to the Timeline, you will probably notice a drop in traffic, especially if you were using default landing tabs. This is one of the most significant changes for brand pages, since landing tabs were a common social media marketing tactic.
However, according to TechCrunch, only 10 percent of page app traffic was driven by default landing pages, while the remaining 90 percent came from published links and ads.
What to do: Use your views and apps area to drive engagement, and remember that you can also use your Timeline posts to steer users to the apps you want them to engage with.

Create conversions using customized apps
2Apps are growing from 520 pixels wide to 810 pixels wide, which is in line with Timeline's overall increased emphasis on visuals.
What to do: Use this to your advantage. Customize your apps to use all of the newly available space when running a contest, making an announcement or crafting your custom App. There's more on this in the eBook, but the image below should give you a hint.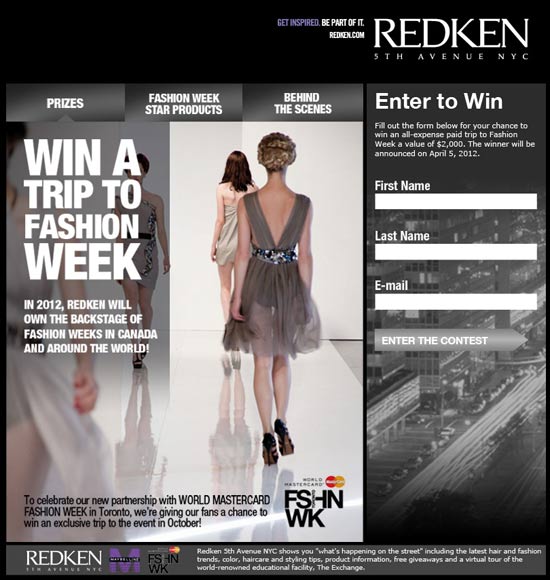 Star posts and 'milestones' to build your brand
3"Starred" posts and "milestones" allow you to showcase your company's successes and growth. They're a terrific way to tell your story, so use them to share awards, major events and new product releases with your visitors.
And even though you know you can't control what your customers say about you, you can control what appears on your Timeline by going back over your old stories and deleting anything that is irrelevant, embarrassing, or obsolete. (See our Socialbrite post How to clean up your Facebook Timeline.)
What to do: Use the star icon to highlight a story and assign it more value on your Timeline. Starred stories will take up more space than unstarred stories, so use them to draw the kind of attention you'd like.
There's much more of this in the ebook. So if the new Facebook Pages are still giving you kittens, hop on over to grab the ebook and start planning your changes now. I'm pretty sure it will help you; I learned a few new things from it.
Please let me know what you think and happy Facebooking!
Many thanks to Munish Gandhi and the Hy.ly team for sharing the ebook with me as well as providing all the images for this post
Related articles
Shonali Burke  is a public relations and social media expert and consultant based in Washington, D.C. Her firm provides integrated PR for measurable results. You can connect with Shonali via her website or follow her on Twitter.


This work is licensed under a Creative Commons Attribution-NonCommercial 3.0 Unported.