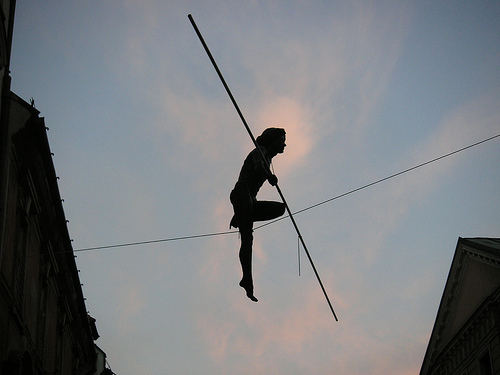 Image by orangebrompton on Flickr
Strike right balance between scheduled updates & direct interaction
Target audience: Nonprofits, cause organizations, community managers, educators, NGOs, Web publishers, bloggers.

When trying to build an online community, I've found that one of the most important things to do is to participate consistently in your preferred channels. And not just participate as in talk a lot, but share interesting pieces of information so that your community knows you're not just in this for you, you're in this for them as well.
Inevitably, then, the time question comes up: "How can I always be online? Is there a way for me to cut down the amount of time I spend in social media?"
Yes and no. Yes, there are various tools you can use to cross-post your updates, for example, or to automate your updates. (See Socialbrite's handy roundup of 10 social media dashboard tools.) But the "no" part of this answer is that if you're going to try and cross-post every single update, or automate your posting schedule completely, I think you'll flop.
How to maximize your social media time
Assuming you agree with that "yes and no" answer, here are four tools I've been finding very useful recently. They might help you, too.

NetworkedBlogs: Syndicate your blog to Facebook

1I tried NetworkedBlogs — one of many auto-posting services that syndicate your blog to Facebook — early on and then, for some reason, stopped. But recently, Ken Mueller wrote about nearly tripling his blog traffic by using, among others, NetworkedBlogs, and that made me decide to try it again.
Since coming back to NetworkedBlogs, I noticed that you can also syndicate to Twitter (though I'm not using that option).
How I've been using it: I had set up both my blogs to syndicate to my Facebook Page (that's where Waxing UnLyrical goes) and my personal profile (that's where my food blog goes). In addition, Waxing UnLyrical goes through to a secret Facebook group that I've set up for all the regular guest bloggers. I'm also testing this for a client blog — syndicating to the Page as well as a supporting Group.
Hiccup: Since I'm also testing Livefyre's new SocialSync feature, I ran into problems with comments that I got on my Facebook posts not being pulled into the comment stream on Waxing UnLyrical (that's what SocialSync does, it pulls in comments from Facebook and Twitter). Jenna Langer at Livefyre told me this was because when syndicating via NetworkedBlogs, NetworkedBlogs' URL masks the actual blog URL and loads the site in an iFrame. (Sorry for that geek interruption.) Because Livefyre can't see that that's part of the conversation, those specific comments don't show up in my Waxing Unlyrical comment stream.
But if you're not using Livefyre as your comment system, you should be fine, and it's worth a try because it does make the posts show up nicely in Facebook.
Automation saves time — if used sparingly
A lot of people look down on any level of automated publishing. I used to be one of them, but I'm not any longer. Frankly, it's completely unrealistic to expect anyone — and that includes nonprofits and businesses using social media — to be able to maintain a consistent presence in social media if it's 100 percent manual, and especially if it's a small team or one-person shop.
As practitioners, we should try to find ways to encourage people (and organizations) to use social media more productively as opposed to being terrified of the time they'll have to put in. Tools like these, when used properly and in moderation, can really help.
So when I schedule posts, I usually select days and times I'd normally be online (e.g. not one every hour, on the hour). And some days, I just don't get to scheduling at all.
What about time?
Participating consistently in social media will still take time, and there's no getting away from that. After all, it takes time to find good information to share, right? And while I find these tools extremely useful, if you look at my Twitter stream, or Facebook page (or profile), you'll see that the majority of my updates are interactions with other people, and they're all manual.
So please don't take this post as a blanket OK from me for automating everything. In my opinion, that would be the worst thing you could do.
But if you can strike the right balance between scheduled updates and good old human interaction, then these tools might make a big difference for you.
Are you using any of these tools? What do you find useful, or not? What about other tools that I didn't mention? Please share, as always the comments are yours.
Related
• Cross-posting tools: Be efficient — but be smart (Socialbrite)
• Top 10 social media dashboard tools (Socialbrite)
• 10 social tools to put to work for your cause (Socialbrite)
• Set up a social media dashboard with Hootsuite (Socialbrite)
• Post Planner: A branded publishing app for Facebook (Socialbrite)
• How to build & manage a monitoring dashboard (Socialbrite)
• 10 top collaboration tools for your organization (Socialbrite)
Shonali Burke  is a public relations and social media expert and consultant based in Washington, D.C. Her firm provides integrated PR for measurable results. You can connect with Shonali via her website or follow her on Twitter.


This work is licensed under a Creative Commons Attribution-NonCommercial-ShareAlike 3.0 Unported.