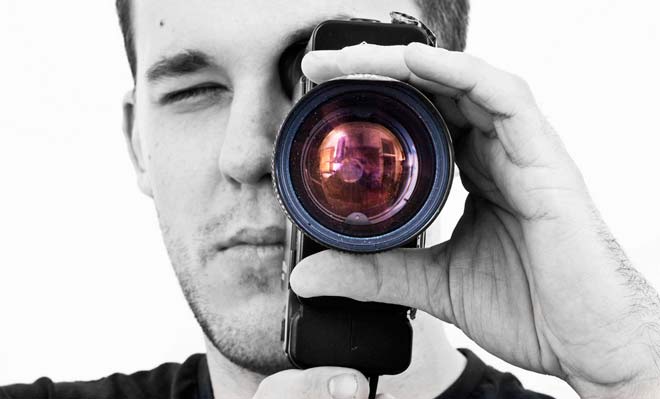 Hardware & software for telling your organization's story through video
This is the first of a three-part series on nonprofits' use of video. Also see:
• Part 2: 7 top video editing tools for nonprofits
• Part 3: Video for your cause: Getting giddy over Viddy
Target audience: Nonprofits, cause organizations, foundations, NGOs, social enterprises, businesses, educators, journalists, video producers.
Guest post by Stacy Laiderman
Senior Producer, See3 Communications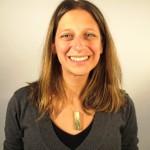 I'm going to let you in on a little secret: Producing video in-house at your organization isn't as scary as it sounds. More than ever before, organizations are using video as their primary vehicle for communicating their issues and telling the stories of their cause while the tech becomes easier for laymen to use. That's not to say that you don't need at least one professionally produced video. You do.
But organizations rarely have the budgets to hire pros to create every piece of video content. Creating your second-tier video content in-house is within reach. First, you need to know how to navigate the galaxy of good, bad and in-between products that is the video marketplace.
Here's a roundup of gear and other things to think about from a seasoned producer's point of view.
Before you think of buying gear
Before delving deeply into the best type of gear for organizational video, let's play devil's advocate. This is a question that applies mostly to small and medium-sized organizations that may be hesitant to shell out $3,000 to $4,000 for a decent professional video production system: Does your organization have the human resources to create videos?
I'm not talking about tacking on video production tasks on to your communications department's already hectic steep list of to-dos. Does your organization have an individual or team that is motivated to produce videos? If not, that should be your first investment.
One of my production associates at See3 also teaches photography. He told me, "I meet a lot of hobbyists and amateur photographers in class, but one of the largest groups of people who come in are folks who wanted to help their company with their photography skills." As an employer, one of the most empowering things you can do before buying a killer camera kit is to first see who in your organization is interested in helping to produce videos — then motivate that individual or team by investing in training and classes for them. Empower your people with the fundamentals to create good video stories and help them learn the production process. The right gear is only as good as the people who are confident enough to use it.
That said, let's talk about the equipment.
Audio
Audio is key. In fact, it's often more important than visuals. Remember one thing: People will watch bad video with good audio but won't watch even the best-looking video if the audio sucks. If you went to see "Transformers" in the theater and couldn't hear the dialogue (and clearly, the amazing dialogue is the best part of any Michael Bay movie) or the explosions, you'd walk out, right?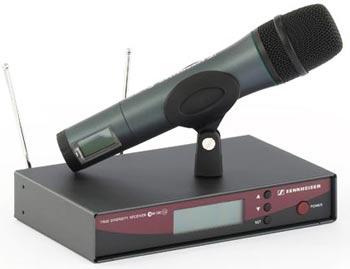 If you're on a tight budget, the onboard mic is okay for interviews in quiet rooms with subjects less than 4 feet from the camera, and for recording ambient sound. But if you're planning anything more than that, you need to get a wireless mic pack.
The Lectronics systems are the best, and the EW-100 from Sennheiser is also great. If you're going to use wireless audio in an urban environment, don't spend less than $800. Seriously, anything else and you will be throwing money out the window.
A lower cost option is to grab a wired lavaliere microphone for $200, which will suit most sit-down interview situations.
Recommendations for quick and dirty 'pocket' shooting
These are some simple products that most NPOs should familiarize themselves with. They're small, inexpensive and good choices for your people in the field who need to point and shoot on the fly.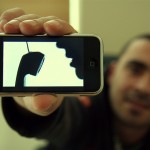 The iPhone: Seriously, this is one of the best low-fi options out there. You can also set up your phone to host a live stream event. Just know that the zoom on these lo-fi devices don't work well, so when filming you need to be in the action, otherwise everything will come out looking distant. Don't forget a mini-tripod where suitable.
If you're looking to move up a little: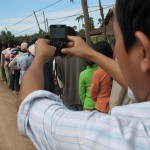 Kodak Zi8 camcorder: While there are some cameras out there with better image quality, the Kodak Zi8 gives us above average quality HD video and the ability to record better sound than a camera with on-board microphones. The Kodak also gives the option of using external memory cards making data transfer easier and less dependent on having a charged camera battery.

Sony EMC-T6 (audio): This small external mic will yield higher quality sound than the built-in mic, allowing subjects to record voice over and other important dialogue.
Conservatively, the total cost per package is about $300.
Consumer grade products
These are a wide variety of retail models that you can find locally or products that people in your organization might already own. When using these, consider the following:
The No. 1 thing when looking at cameras is that you check the resolution size to make sure you can get at least 1080p quality.
These days, most consumer cameras are tapeless, so make sure to figure out how much memory you'll need and that you have a HD backup.
Also, make sure your camera allows for an external microphone plug-in, in case you want to upgrade in the future. Hint: you will.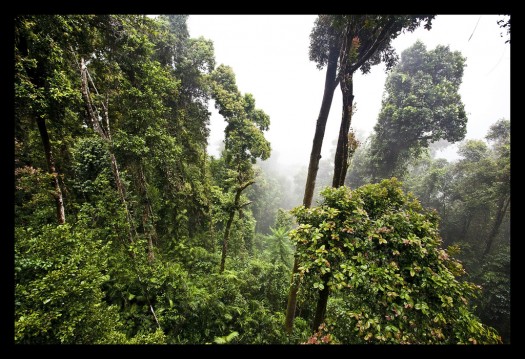 Recently, I was working on a project in Ecuador's Cloud Rainforest and knew that I didn't want to bring the most expensive high end gear. Also, I just didn't need it! I shot on the Canon Vixia S20 series and loved it. The only nit to pick with this model is that most of the controls are on the screen, which can be a little cumbersome. This model is no longer available new, but you can always buy used, or the newest generation – the Canon Vixia HF M500 – for $528.
Pro gear
If you're trained and ready to start creating video on high-end equipment — and have the budget! — consider the JVC GY-HM100U. It has a few major features that make it better and more cost effective for your department over the long run.
GY-HM150OU

JVC has just launched the HM150u, starting at $2,250. Check out its features.
It records in a more universal XDCAM format while can be edited natively by most computers and software, without the 10x increase in file size of AVCHD.
The camera has an SD card slot so you can back up your files in the field; JVC was the first company to implement this. This is a huge asset due to the volatile nature of digital data. The upgraded model allows you to record to both memory card slots at the same time)
Many of the major camera controls are ergonomically located on the camera body and highly accessible, not buried in the menus. This is a big deal because you never want to have to search for small things like white balance or audio settings in the middle of a live event or interview. Those buried camera settings can cause you an aneurism in a tight situation.
Side note: Make sure to buy extra camera batteries. You can't shoot an all day event with 60 minutes of juice.
DSLRs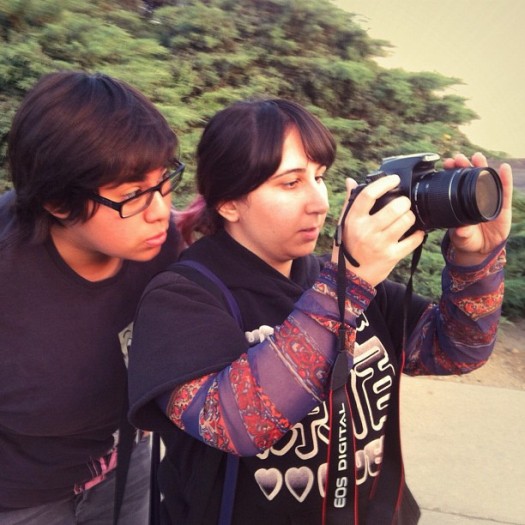 Now I know everyone reading this blog post is probably wondering about DSLRs. Yes, DSLRs are an option and they are great. In fact, I will say they are beautiful! But ask yourself what you're using it for. DSLRs are not the preferred choice for "run and gun" situations. To be sure, if you have a trained staffer and need top-quality content, it will produce beautiful images for your organization. To realistically use the DSLR for most situations you either have to have the Olympic gold in holding a camera steady or you need all the bells and whistles that essentially turn the DSLR into a shoulder mount professional camera. In the long run, by the time you have the lenses and peripherals you need to get 100% out of your DSLR, you've spent the equivalent of a Sony EX-3 (a very expensive camera).
I personally use the Sony – NEX7. I love it for the pocket size body but I can still add interchangeable lenses. The audio on it, like most other DSLR Canon and Nikon cameras, is terrible. So I also had to buy a separate Tascam DR-05 recorder.
See3 has the Canon 60D which is more of a traditional DSLR body and has a Tascam DR-100 as well.
Remember, if you are recording audio separately you will need to sync up your image in post production. Our recommendation to help you do this faster than a speeding bullet is to use the PluralEyes plug-in ($149) for your editing tool.
Considerations when integrating video gear with an editing solution
What format does the camera record in and is it compatible with your editing software? Here's a scenario that has created many a money pit and bottleneck in people's post-production: A camera records in the AVCHD format, which is a format that cannot be natively edited on most software (with the exception of Adobe Premiere). You must first convert the file then import it into the software you are using to edit. Sounds simple, but here is the catch: If you have 1 hour of footage, that is about 8GB. It will take you roughly 3 hours to convert the footage, and the resulting converted files will be about 10x the size at 80GB. This is a huge post production burden and you will end up burning through a lot of time and buying a lot of hard drives to store these huge files. So based on this example, every time you shoot 1 hour of footage you are committing to 3 hours of compression time in which a computer is tied up, plus about $80-$100 for a hard drive to store that footage.
Editing software recommendations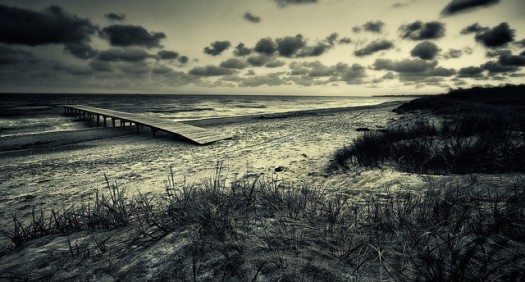 Adobe Premiere Elements 11 ($99) is terrific entry level editing software. For more advanced users, Adobe Premiere Pro ($750) is a fine choice. Adobe works on both Mac and PC and is what most smaller post-production agencies are moving toward with the recent changes in Final Cut.
If your organization is already using Adobe Elements in house, you can purchase the cloud package, which gets you the entire creative suite for $50 a month. The benefits are you will never have to upgrade again and there is an attached cloud storage solution. This is not big enough for all of your footage, but it is a great place for an archive of final products.
Get started – don't sweat the hardware
Ultimately, it's about how you tell your story, not the tools you tell it with.
Just remember: A camera doesn't take good picture, and sound devices don't get good sound unless the driver knows how to get it and has a story in mind. Whatever you do, be motivated and work with equipment you are comfortable with. And before you even press record, know why you're filming, what you are filming and what it will do for you as an organization!
Stacy Laiderman
is a senior producer at See3. She has years of experience in the documentary film world, and has created documentary films with youth at a Chicago public school. She has worked on over 275 nonprofit videos for all types of organizations, including Animal Legal Defense Fund, Greater Chicago Food Depository, and many more. This article originally appeared
on the NTEN blog
under a
Creative Commons Attribution NonCommercial ShareAlike license
.

This work is licensed under a Creative Commons Attribution-NonCommercial-ShareAlike 3.0 Unported.