Mobile devices, SMS, social networks are options for online donations
Guest post by Kemper Barkhurst
HiDef
Irecently set up an online donation form for Rio Grande Community Farm, a nonprofit where I serve as board member and volunteer. This PayPal donation form was static and made me wonder about other ways in which nonprofits can raise money with online technologies.
After a little research, I found a few new tricks by which nonprofits can connect and accept donations from their supporters. These methods extend beyond just online payments or joining a social network. Check out the new ways nonprofits can collect donations from a mobile device, a text message campaign (SMS) and even social networks.
Credit card donations with Square

One of those emerging services is Square, a payment system that processes credit cards from a mobile device. This type of system will allow a nonprofit to accept on-the-spot donations. Imagine that your organization is tabling at an event and instead of having to rent a credit card terminal or go through a cumbersome paper-filled process, you grab your smart phone and accept a donation and email the receipt on the spot. There is a low transaction fee associated with each payment and is something that nearly any size, smart phone-equipped nonprofit can get started using fairly quickly once the service is fully launched. The only missing piece would be getting those donors automatically into a mailing list or in a CRM so you can follow up with them of the great work they are supporting (by the way, we can help with that).
SMS donations with mGive

Another way that nonprofits can raise money is through text message donations. A service such as mGive and a well-crafted campaign can open new fundraising opportunities. For a fee, nonprofits can receive text donations in increments of $5 or $10 sent to a designated number. This donation is then charged to the supporter's cell phone bill, so money can be collected without credit cards or cash payments.
mGive isn't for all nonprofits, however; service fees range from $400 to $1,500 per month in addition to a fee for each transaction. A free account for contact list building can get a smaller nonprofit started with SMS. This account also allows outgoing messages for a per-message fee. Outside of the free account, it might be difficult to make back the investment without a large media campaign. There are some successes, though, as mGive processed more than $37 million within three weeks after the Haiti earthquake. This is a good testimonial to the power of a well-crafted campaign.
Donations from Twitter & Facebook
Yielding a return on investment into social media networks is very important. Services like TwitPay and Causes allow you to turn these social networks into a direct fundraising mechanism. Nonprofits can now reach the crowds in social networks.
TwitPay and RT2Give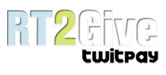 TwitPay, as the name suggests, works with Twitter. Their RT2Give service provides a quick way for getting supporters to donate. So not only do your supporters promote your cause through their tweets, they are just one step away from donating to your cause with a simple confirmation response. Currently a nonprofit must submit a request to access this service. It is recommended that you have at least 1,000 followers or work with a partner that can provide enough exposure.
Causes on Facebook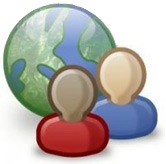 Causes is an application on Facebook that allows members to support their favorite causes. They can spread their support through their network by joining a cause. They can also quickly get to a donation page where they can show that support. There are currently over 20 million members of this Facebook app. To get started with Causes, a nonprofit can join as a partner or start immediately by adding a cause within the Facebook app. As usual, there is a transaction fee for each payment from your supporters.
Overall, these are all great and dynamic new ways in which a nonprofit can begin more actively connecting and hopefully receiving funding from their supporters. I plan to spend a little time in the next few months experimenting with these services with the farm. It will be interesting to see how a nonprofit can more directly connect with their supporters to keep them engaged.
Kemper Barkhurst is a designer at HiDef, a top-tier team that creates Web solutions for great causes.
Related
• 24 tools for fundraising with social media (Socialbrite)
• 8 tips for raising funds online (Socialbrite)
• How does mobile giving work? (Socialbrite)
• Behind the success of 10 top Causes (Socialbrite)
• 10 mobile apps for social good (Socialbrite)
• Fundraising stories on Socialbrite