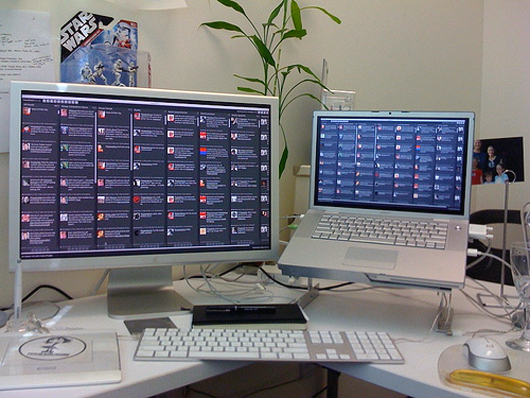 Image by Joe Pemberton on Flickr
Choose one of these 7 tools to improve your Twitter workflow
Target audience: Nonprofits, NGOs, cause organizations, social enterprises, businesses, brands, bloggers, social media managers, individuals.
Summary: As Twitter becomes part of your routine — and especially if you manage multiple accounts — it's easy to feel as if you're floundering in the incessant flood of information. But a good Twitter dashboard (sometimes called an application or client) gives you access to your accounts in one place and can help you stay afloat by making it easier to monitor, plan and track updates and conversations.
Here we compare our top seven Twitter dashboards, as well as list others that may work best for you and your organization. Compare these to our earlier roundup of Top 10 social media dashboard tools.
This is the part of our ongoing series on how organizations can get the most out of Twitter. Please check back weekly for the next installment. Also see:

• 8 nonprofit Twitter superstars
• 12-step guide on how to live-tweet an event
• 24 best practices for nonprofits using Twitter
• 7 top tools to measure performance & influence on Twitter
By Lindsay Oberst
Socialbrite staff

Twitter dashboards come in two types: desktop and Web-based. Which one best fits your organization depends on your preferences. While some people prefer to separate their Twitter and Internet experiences, other people find it easier to keep everything within the Web browser.
One downside of running a separate desktop client is that it can slow down your computer. However, even though Web-based solutions don't require updates as do desktop ones, they also occasionally don't work properly. Many of these clients also work on other platforms, including iPhones, Androids, iPads and others. All of these tools can be a bit daunting at first, so expect to spend some time getting familiar with them.

TweetDeck: An all-in-one desktop dashboard
1TweetDeck allows you to schedule tweets, to follow and unfollow accounts, and to create separate columns to track hashtags, keywords and Twitter lists. It also supports Geo-tagged tweets. You can track links using the url shortener bit.ly, and if you feel limited by 140 characters, a service called deck.ly allows you to tweet longer. The pop-up notifications can be helpful if you need to stay updated on a certain topic or keyword throughout the day. Unfortunately, you can't filter the pop-ups but you can turn them off. On the negative side, this desktop tool has been known to slow some computers down since it uses Adobe AIR.
Twitter acquired Tweetdeck in May 2011, and although they have not done so yet, and haven't shown any signs that they will, some people have concerns that Twitter might shut down Tweetdeck to protect itself. For now, this dashboard also simplifies Facebook, Myspace and Foursquare account management. Plus, its Android app gets the best reviews.
Rating: ★ ★ ★ ★
Platforms: Desktop, iPhone, iPad, Android
Other choices
We haven't used all of these additional Twitter dashboards and clients — which ones do you think are worth a tryout?
Have a favorite of these Twitter clients? Which ones do you like or dislike? Know of others we missed? Please share in the comments!
Additional Twitter articles on Socialbrite
• Top 10 social media dashboard tools
• 12 great nonprofits & causes to follow on Twitter
• Build a fan base: How to get more followers on Twitter
• Go viral: 13 ways to get your blog posts retweeted
• Twitter tutorials: Twitter Lists, hashtags, Twitter stats & moreLindsay Oberst is a freelance writer who writes about art, culture and topics that relate to social and environmental good. Follow her on Twitter at @LindsayOSocial for social good discussions or at @LindsayOWrite to chat about writing.

This work is licensed under a Creative Commons Attribution 3.0 Unported.