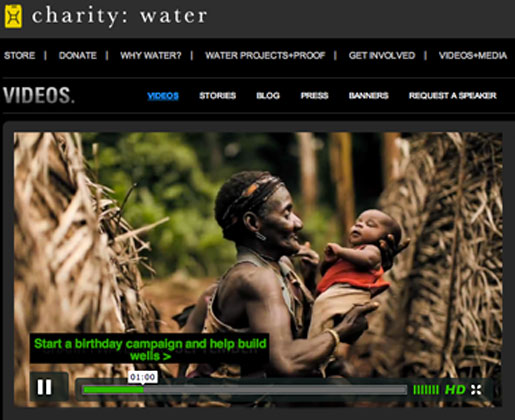 Getting your supporters to take the next step when your video ends
This is part two of a three-part series on how nonprofits can create engaging multimedia stories that motivate supporters to take a desired action. Part two describes the use of call-to-action video overlays to boost ROI. Also see part one:
• Creating compelling advocacy videos for nonprofits
Target audience: Nonprofits, NGOs, foundations, cause organizations, social enterprises, brands, businesses and their corporate social responsibility (CSR) divisions, video producers, Web publishers.

While the audience for online video continues to grow, the advances in Web video technology are changing at a dizzying pace, making it hard for nonprofits to keep up. There are several good online video platforms and third-party apps available to convert views into actions. YouTube's call-to-action video overlay, third-party video apps and customized video domains or microsites offer great options for boosting the return on investment of your nonprofit's video program.
YouTube's call-to-action video overlay
The effectiveness of your message is cut short if you don't use a clickable call to action that takes visitors to your site or Twitter page to make a donation or to take another action.
Most nonprofit Web videos make mention of their organization's URL either verbally or with graphics edited into the video. But the effectiveness of your message is cut short if you don't include a clickable call to action that takes visitors to your website, Facebook Page or Twitter page to make a donation or to take another desired action.
YouTube's nonprofit program offers two such call-to-action video apps that can be easily implemented: overlays and annotations.
If your nonprofit is not already part of the Google for nonprofits program, consider applying. The free program offers many benefits and can become a center for creating effective calls to action and engagement:
Free or discounted version of Google Apps for your organization
Premium branding capabilities and increased uploads on YouTube
The option to drive fundraising through a Google Checkout "Donate" button
The ability to add a call-to-action overlay on your videos to drive campaigns
The ability to post volunteering opportunities on the YouTube Video Volunteers platform
Free Adwords advertising
Examples of video calls to action — in action
Here are a few examples of how nonprofits have incorporated overlays and annotations to drive a specific course of action.
This Angry Kid Greenpeace video is heartfelt and does a great job delivering its message. Unfortunately, the creators stop short by simply offering engaged viewers the opportunity to visit their website at the end with no actionable link:
The Darius Goes West video takes it a step further and adds a call-to-action overlay to visit Darius' Twitter page as part of the YouTube player:
The use of  annotations to engage the viewer and encourage interactivity can be seen in The Hug The World video (after the initial 15 second ad):
This Greenpeace video celebrating a victory over rainforest destruction also uses annotations in their call to action by encouraging the viewer to "like" the video:
Third-party video player overlays
There are several companies that have emerged recently that market call-to-action video player skins that are designed to be layered on top of players such as YouTube or Vimeo. Viewbix, for example, offers "to put the entire Web experience in the video player."  Their software allows video creators to add elements of their websites, social networks and more into the video player so that when they share the video on Twitter, Facebook or YouTube they take all their calls-to-action and content with them.
To illustrate, Socialbrite partner Major Multimedia, a nonprofit video training and production company, created a Viewbix overlay for a video created for a client, Chicago Cares, to recognize outstanding volunteers at their awards banquet. This video is housed on Viewbix's website but can be embedded, copied and shared.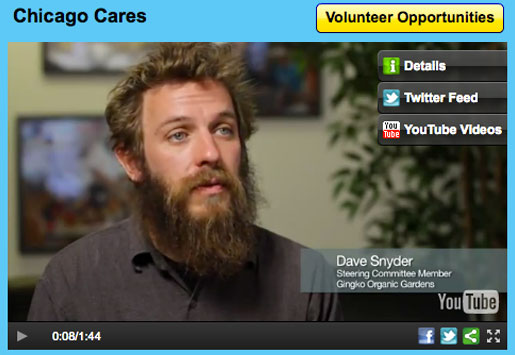 Videos for a customized video domain or microsite
While hosting on YouTube has its advantages for nonprofits, a professional multimedia firm can help you custom-design media-driven websites and microsites that integrate with your nonprofit's existing organizational website with platforms such as Vmix, Convio, Kaltura or Drupal (compare).
Just a little over two years ago, Pathfinder International had no videos online and little in-house video production. With the help of See3 Communications, Pathfinder launched a microsite that is built entirely around video sharing: Girl2Woman.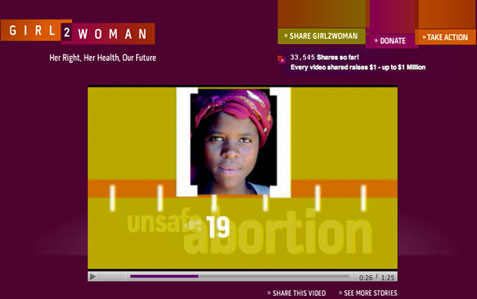 Pathfinder shared how they opted not to use YouTube because "we couldn't control the look and feel as much as we would have liked, we wanted to count the shares of the videos (not the views), and we wanted to focus on integrating features like the call to action share."  They've still posted the videos on YouTube, however, so that others can embed them.
They documented specific objectives for wanting viewers to share their microsite:
to raise the visibility of reproductive health needs throughout a woman's life
to raise $1 million (and for each video share, a generous donor is giving $1 to Pathfinder)
to leverage the share functionality to increase the number of registrations by constituents
To meet those goals, they needed to be able to count the number of shares and capture the information of people who shared, which they couldn't do with a YouTube hosted site.
In fact, embedding video on a nonprofit's own website can be better for your SEO — when a video is published on a third-party site, links to those videos just increase the page rank of the third-party site, not the nonprofit's own site. If the video is published on the nonprofit's site they have full control over the links on that site and the corresponding SEO.
Regardless of which of these call-to-action options your nonprofit chooses, remember to:
first build your social network & encourage conversation before inserting a call to action
use a clear and distinct call to action that tells the viewer exactly what you want them to do
connect viewers to URLs that elaborate on your story.
Consider placing the "call" on the skin or at the end of the video to encourage the viewer to watch until the end and follow through on the call to action. Also, because each video hosted is different, the call to action might be different depending upon the content and desired outcome.
The most important part of your call to action is ensuring that it fits with what your audience needs. When it matches the exact needs of your audience, taking the recommended next step will be a natural course of action for viewers.
Please share your own experience with call-to-action video apps and online video platforms.
Related
Lauren Major is a visual storyteller who helps nonprofits, NGOs and small to mid-size businesses create and share their stories of social good and corporate social responsibility. She is a visual artist, consultant, producer and a partner in Socialbrite. Visit her profile page, see her Major Multimedia site and blog, follow her on Twitter and Google Plus or leave a comment.

This work is licensed under a Creative Commons Attribution-NonCommercial 3.0 Unported.