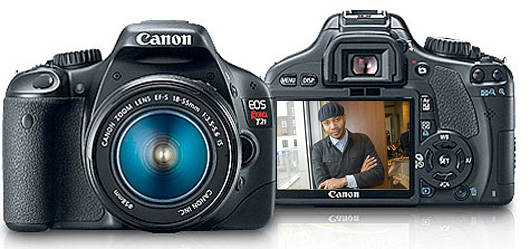 Note from Beth Kanter: After you read this post, you'll have lots of great tips for your nonprofit's video. And don't forget, The 5th Annual DoGooder Nonprofit Video Awards is now  open for submissions from members of the YouTube Nonprofit Program until March 2. This year, for the first time, in addition to awards for Best Small, Medium, and Large nonprofit organization videos, there is also a Best Thrifty Video category for videos produced for under $500.
Guest post by Dawn and Brian Crawford
The HD DSLR video revolution is here. This tech trend — using the video capability of newer model digital Single Lens Reflex cameras — is all the rage. There are contests to push filmmakers to "tell the story behind the still" and television producers are turning to this compact video recording technology.
We recently shot a fundraising campaign video for the Autism Science Foundation with our Canon HD DSLR. Along the way we learned some valuable lessons to help nonprofits use this new video technology to tell their stories.
Why use a DSLR?
Cost, quality and versatility is the most appealing attributes of shooting on a DSLR. For the price of a consumer-quality HD video camera, you could purchase a DSLR that takes both high-quality stills and HD video. Quite the deal!
A DSLR's video quality far outweighs the quality that you can get on a less expensive pocket camcorder. While smaller camcorders have their place, when shooting a fundraising video or another piece for wider distribution, quality is key.
You can also get arty with a DSLR. There are tons of lens options and you can use advanced film techniques like shallow depth of field and pulling focus.
Rent or buy?
You don't have to buy a thing to film your video on a DSLR. Renting means you can get an expensive piece of equipment for a fraction of the price. Check out your local camera shop for rentals and expert advice. Many of them rent everything from cameras to lenses and microphones. BorrowLenses.com is also a great online resource.
In our opinion, purchasing the DSLR body and lens kit is a great investment, especially if you'll be taking photos or shooting video throughout the year. On the other hand, when it comes to lenses, we say rent. A great lens can make a huge difference in your video quality, and good glass comes at a steep price. For our shoot, we rented a lens for $35 that would have cost twice as much as our camera kit if we had purchased it.
Buy a tripod
A tripod may be the most valuable piece of equipment in your arsenal. You can use it to smoothly capture your subject without the nauseating movements. Another nice add-on is a $26 Tripod Dolly that makes those close-ups and pans a whole lot smoother.
Practice your manual focus
The biggest limitation of shooting video with a DSLR is that you need to manually focus your video. Most DSLR cameras do not have continuous autofocus, which means that your subject will come in and out of focus as they walk toward or away from the camera. For a newbie videographer, learning how to smoothly control focus will take practice to master.
DSLR audio is sub-par
There's no way to put a pretty face on this aspect of DSLRs. To capture better audio get a camera with a mic-in jack (these are a bit more expensive) or get a portable recorder. For our videos we use a Tascam DR-07. Either way you'll need to add a microphone to the mix to get the best sound.
Lighting your subjects
An often overlooked detail, lighting can make or break your video. For our video, we rented two professional banks of lights along with diffusers. For the weekend, these rented for around $50. Worth every penny.
Making your video shine
Now that you've shot your video on your fancy DSLR, it's time to edit. You will need to upload your material to a video editing software program to put together shots, add titles and include that all-important call to action at the end. The least expensive and easiest to use options are iMovie for the Mac and Windows Movie Maker for PCs. Both have dedicated users and a huge variety of tutorials online to help you get started. Remember that there are also technology partners to help your nonprofit purchase the software you need to make your dream video.
So, is DSLR video right for your nonprofit? It depends on how much you want to invest. As with any in-house project, you can save on outsourcing, but your internal time commitment does go up. If you are shooting several videos a year, investing in a camera and lens kit then renting additional equipment could be a winning option.
Regardless of whether your nonprofit is shooting with a pocket camcorder, graduating to a DSLR or using a high-def digital camcorder, tell your story. You have amazingly moving stories to tell, so go out there and shoot them!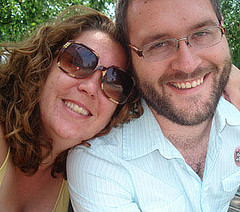 Dawn and Brian Crawford
are a creative duo who are communicators by trade and have a passion for nonprofits. Dawn is a freelancer for 
BC/DC Ideas
and Brian writes for the volunteer storytelling blog 
Amplifying Good
. Both live in North Carolina. They just love shooting video and have not been paid to endorse or recommend any of the products in this blog post. Republished from
bethkanter.org
under a CC BY license.
Related
• Video DSLRs vs Camcorders (The Luminous Landscape)
• How To Guide For Shooting HD Video With A DSLR Camera (Real SEO)
• Guide to shooting better online video
• A quick guide to multimedia software: Overview of software for multimedia editing & video hosting
• Complete guide to creating a video project
• How nonprofits should be using visual storytelling
• 8 tips to help you shoot video like a pro
• 6 tips for shooting effective Web video
• Mash up a visual story for your nonprofit: New multimedia tools include RockYou, Slide and Animoto
• Create video stories for your nonprofit in 6 steps (video)
• Create a video story without a camcorder
• Creating media: Socialbrite articles

This work is licensed under a Creative Commons Attribution 3.0 Unported.