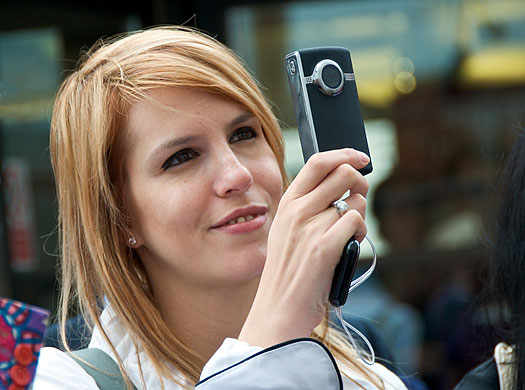 Ayelet Noff of the Traveling Geeks holds the Flip Ultra HD in London. (Photo by JD Lasica)
Launching our summer series on making media for social good
Target audience: Nonprofits, social change organizations, educators, NGOs, citizen journalists, media makers

We're kicking off a summer series on making media for nonprofits and social change organizations. And, to highlight the wealth of tools on Socialbrite as we just marked our first birthday, we've rolled out a complete redesign of our Sharing Center.
Regular readers know that Socialbrite is all about showcasing social tools for social change. Every week we bring you a new batch of articles from our team to help you take advantage of the astonishing new ways to connect, collaborate and communicate and mobilize your cause online.
We've been saying for some time that every organization, every nonprofit, is turning into a media outlet, at least in part. It's the same meme my Traveling Geeks colleague, journalist Tom Foremski, has been using with his new site, Every Company Is a Media Company.
So we decided to tap our friends' expertise to highlight the tools and platforms that have been making the biggest difference in their own efforts — people like Allyson Kapin of Rad Campaign and Frogloop, Claire Sale of NetSquared, Andrew Rasiej of Personal Democracy Forum, Peter Deitz of SocialActions, Beth Kanter of Zoetica, Julie Crabill of Inner Circle Labs, Katrina Heppler of envisionGood.tv, Nathan Freitas, the mobile developer for the New York State Senate, and others.
Our original idea was to do one big roundup of indispensable tools — with the caveat, as always, that you should begin your efforts with a social media strategy, conversation strategy and social media strategy, and not just a set of tools. It turned out, though, that our colleagues provided so many suggestions that such an approach proved unwieldy. So instead we've decided to run a series of "top tools" lists by these experts in the field, kicking things off with this initial roundup of tools and resources for social good.
We suspect some tools and sites in the list below will be familiar while others may be new to you. Please add your own tips and suggestions in the comments below! And if you'd like to contribute your own short article, let us know.
Social action tools & platforms

Mobilize.org: Empowering & energizing the millennial generation
1Mobilize.org promotes greater civic participation and political engagement among young people. The site's organizers believe the millennial generation offers hope for social justice regardless of race, class, religion or partisan identification. Mobilize.org has hosted eight Democracy 2.0 Summits on financial literacy, money and politics, millennial veterans, the environment and unemployment — with an eye toward developing sustainable solutions to these challenges. Follow mob_org on Twitter.
Media creation tools
In this series
Here are the initial articles we'll be adding to this series in the coming days and weeks:
• 12 awesome platforms for social good (Katrina Heppler)
• An educator's 5 top tools for social change (Barbara K. Iverson)
• A quick guide to multimedia software (Idealware)
• Top 5 tools for the entrepreneurial journalist (Dan Pacheco)
• Facebook 101 for Nonprofits: Getting Started in Five Easy Steps (Azin Mehrnoosh)
• A change agent's top 5 tools for social change (Allyson Kapin)
• 12 open source tools you should be using (Kim Bale)
• A developer's 5 favorite social tools (Nathan Freitas)
• 6 productivity tools for social change (Katrina Heppler)
• Complete guide to creating a video project (Tim Davies)
Related
• Making media: Tools & resources for nonprofits and social change organizations (Socialbrite)
• The Socialbrite Sharing CenterJD Lasica, founder and former editor of Socialbrite, is co-founder of Cruiseable. Contact JD or follow him on Twitter or Google Plus.

This work is licensed under a Creative Commons Attribution 3.0 Unported.