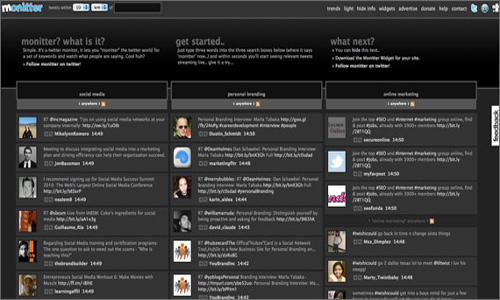 Monitter is one of the Twitter tracking tools reviewed below.
Tips & tools for tracking what's being said about your nonprofit
Target audience: Nonprofits, NGOs, cause organizations, social enterprises, businesses, brands, bloggers, social media managers, individuals.
This is part of our ongoing series on how organizations can get the most out of Twitter. Please see below for other installments in this series.
By Lindsay Oberst
Socialbrite staff

People are talking about your nonprofit, especially on Twitter. Research shows that one out of three Twitter users talk about brands in their tweets.

You don't have the time to moniter your organization's Twitter stream all day long, hoping to catch any mentions of your name. Thankfully, it's easy to keep an eye on your brand. You can save time by setting up the right tools for your Twitter account. Below you'll find plenty of options for monitoring mentions and tracking keywords so that you can respond to supporters promptly and analyze your results for success.

Twilerts: Twitter alerts via email
1Twilerts is a brand application that enables you to receive regular email alerts of tweets containing your brand, or whatever keyword you want to stay on top of. Think Google Alerts for Twitter. It allows you to track up to 10 queries, using its basic or advanced options, after creating a free account through your Twitter account or through Gmail.
Rating: ★ ★ ★
Platforms: Web-based
Top photo via socialmouths.com
In this series on Socialbrite
• 8 nonprofit Twitter superstars
• 12-step guide on how to live-tweet an event
• 24 best practices for nonprofits using Twitter
• 7 top tools to measure performance & influence on Twitter
• Best Twitter dashboards for nonprofits
• 10 great get-down-to-business Twitter apps for nonprofitsLindsay Oberst is a freelance writer who writes about art, culture and topics that relate to social and environmental good. Follow her on Twitter at @LindsayOSocial for social good discussions or at @LindsayOWrite to chat about writing.

This work is licensed under a Creative Commons Attribution 3.0 Unported.