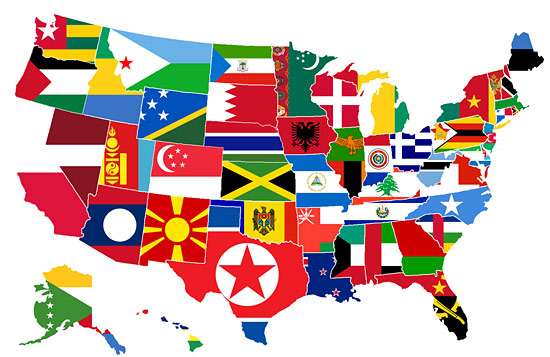 A visualization from Bigthink.com.
Target audience: Cause organizations, NGOs, nonprofits, foundations, social enterprises, political reformers, educators, journalists, general public.

Over the past three years, as regular readers know, Socialbrite has put together dozens of guides and compilations of resources and tools for social change advocates. See the bottom of this article for a few, and our Sharing Center is all about social tools for social change.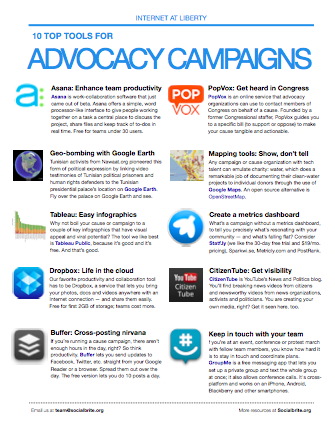 To celebrate Internet at Liberty, a conference on protecting protecting freedom of expression on the Internet that Google is organizing in Washington, D.C., this week — and where Socialbrite is running the social media workshops — we're launching a new section today:
The Social Advocacy Toolkit features new and updated informational guides, tool roundups and resources for global activists, social good advocates, political reformers, NGOs and anyone looking to use online tools for social change. It includes tactics for effective campaigns, guides to the best monitoring and metrics tools (many of them free), lists of enabling platforms and organizations and other resources to help galvanize your campaign.
Below is a new guide that we've put together to help social change activists with their advocacy efforts, which we're adding to the toolkit. Check out the Social Advocacy Toolkit for much more.
10 tools for activists & social change advocates

Asana: A leap ahead for productive teamwork
1Asana is a work-collaboration software suite that came out of beta in April 2012. "We built this company to change the world," said founder Dustin Moskovitz, one of the co-founders of Facebook. Asana offers a simple, word processor-like interface to give people working together on a task a central place to discuss the project, share files and keep track of to-dos in real time. It's free for teams of fewer than 30 users.
Alternatives: Yammer, Microsoft Sharepoint (for larger enterprises) and see our Collaboration roundup
Other tools worth a shoutout
The tools above aren't the only ones that should be in your advocacy arsenal. Consider some of these as well:
• See our writeup on Digital Democracy and its Handheld Human Rights mobile platform for human rights in Burma/Myanmar.
• GeoChat, from InSTEDD (Innovative Support to Emergencies Diseases and Disasters), is a collaboration tool that allows anyone to chat, report and get alerts on their cellphone and to map data on Google Earth, Google Maps or Virtual Earth. It uses SMS, email, and Twitter.
• Ushahidi and Frontline SMS are must-have mobile tools for anyone working with remote communities or in disaster relief areas. And they have broader uses as well.
• Join.me is a cross-platform screen sharing app that lets you give control of your computer screen to someone else.
• Shortstack, says my partner John Haydon, "is my number one choice for creating amazing Facebook Page custom tabs. You can create photo contents, reveal tabs, photo galleries and more. Check out this example of what you can create with Shortstack." It costs $15 a month to start.
• NodeXL is a tool for finding connections between people or organizations. Mostly for geeks as it's a bit daunting.
• If This, Then That is another interesting tool I just discovered. It helps you create certain actions when a task is triggered, like "send me a text message when my organization is mentioned on Facebook."
• Jing from TechSmith, Screenr and Screenflow for Mac are three of the best tools for creating screencasts.
Guides for social change advocates
Here are some of Socialbrite's other guides for social change:
• Change-makers share 10 of their favorite tools (JD Lasica)
• 12 open source tools you should be using (Kim Bale)
• 12 awesome platforms for social good (Katrina Heppler)
• An educator's 5 top tools for social change (Barbara K. Iverson)
• Top 5 tools for the entrepreneurial journalist (Dan Pacheco)
• A change agent's top 5 tools for social change (Allyson Kapin)
• A developer's 5 favorite social tools (Nathan Freitas)
• 6 productivity tools for social change (Katrina Heppler)
• Complete guide to creating a video project (Tim Davies)
Related
• Making media: Tools & resources for nonprofits and social change organizations (Socialbrite)
• 10 top collaboration tools for your organization
• The Socialbrite Sharing Center
• Directory of cause organizations (Socialbrite)JD Lasica, founder and former editor of Socialbrite, is co-founder of Cruiseable. Contact JD or follow him on Twitter or Google Plus.

This work is licensed under a Creative Commons Attribution 3.0 Unported.