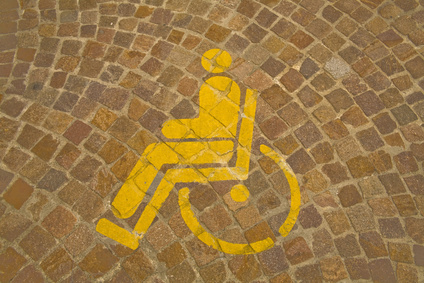 This is part of the series the 31 Day Challenge To Optimize Your Blog With Social Media.

Social media gives voices to individuals marginalized and ignored by traditional media, enabling the world to hear these voices for the first time in history.
However, as in the physical world, the online world poses many barriers to people with disabilities:
Images without text equivalents (ALTs in html lingo) are inaccessible to individuals with vision impairments using text-to-speech screen readers.
Video and audio without captions or transcripts are inaccessible to people who deaf and hard of hearing or to those who don't understand the speaker's accent.
Hyperlink text that blends in with surrounding text (or that isn't underlined) are difficult for people with low vision to spot.
Short, one-word hyperlinks are difficult for people with limited hand function to click on.
Flickering and flashing images and animations can cause seizures in some individuals.
CAPTCHAs, images of obscured letters and numbers designed to separate the humans from the robots, are "Do Not Enter" signs for those who are blind and are confusing for those with learning disabilities, such as dyslexia.

And the list goes on.
The good news is simple solutions can tear down these barriers, further enabling these previously silenced voices to be heard and to fully participate online and in social media.
This primer reading list explores web accessibility issue, and offers tips and tools for implementing solutions:
Have an accessibility-related question?
Have an accessibility-related question? Ask Glenda!
For 10 years Glenda Watson Hyatt has worked with three levels of government, transit authorities and non-profit organizations to increase the accessibility of their websites for people with disabilities. Glenda blogs at Do It Myself Blog about various accessibility-related issues, including web and blog accessibility. She does all this by typing with only her left thumb! She's a remarkable person.
If you don't want to miss out on the 31 Day Challenge To Optimize Your Blog With Social Media, please sign up.
In this series
• How to make your website more accessible (JD Lasica at Socialbrite)
• 7 tips for communicating with people with disabilities (JD Lasica at Socialbrite)
• How to make your blog more accessible (JD Lasica video interview with Skye Kilaen at BlogHer 2006)
John Haydon delivers social web strategy solutions for "the quick, the smart, and the slightly manic." Curious? Then connect up: Contact John by email, see his profile page, visit the John Haydon blog, follow him on Twitter and Google Plus or leave a comment.


This work is licensed under a Creative Commons Attribution 3.0 Unported.