Resources for social causes & campaigns
By the editors of Socialbrite
Socialbrite has created a toolkit for social and political advocacy — an evergreen resource for the social media workshop we put on as part of Internet at Liberty, the conference on Internet freedom of expression organized by Google in Washington, D.C., on May 23-24, 2012.
Consider this a good starting point for activists, change agents and political reformers who want to bring positive change to their countries, their communities and the world at large. We also realize this is a very U.S.-centric directory, so please email us with your submissions or leave your pointers and tips in the comments below.
Also see:
• Resources for social activists (part of this toolkit), including links to platforms, organizations, action guides and more — please share your tips and favorite tools!
• Socialbrite Sharing Center, for an even more wide-ranging directory of community resources
• Get a deep dive into Tools, Facebook, Twitter, Google Plus, Video and Fundraising
12 social change information guides
Scroll down to see all 12 social change information guides, or download them all at once (2.2MB) — save them to your desktop and double click to create a folder: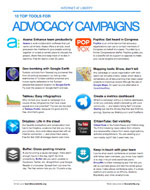 10 top tools for advocacy campaigns
1 page, PDF
Download flyer (also at bit.ly/advocacy-campaigns)
Summary: We run down 10 tools that should be in every advocacy campaign's toolkit, including Asana (for project management), PopVox (for advocating to members of Congress), Tableau Public (for visualizations), Dropbox (for productivity) and more.
Beth Kanter is CEO of Zoetica, a consultancy for nonprofits. See her profile, visit her blog, contact Beth or leave a comment.