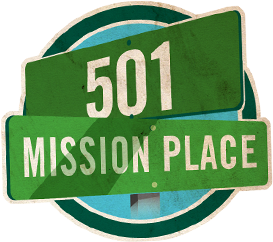 Born as a conversation between close friends almost a year ago, 501 Mission Place is an online community for nonprofit leaders. From its inception, our goal has been to bring together nonprofit leaders from around the world to learn from each other, share ideas, resources, and inspiration. That conversation has continued each week over the past year and has focused on the following questions for our members:
What do nonprofit leaders really need to fulfill their missions?
How can we (Rob Hatch, March Pitman, and myself) provide an even richer venue for collaboration with other nonprofit leaders?
How can we all be happy in the process?
Seeking to answer these questions, we have revamped what 501 Mission Place provides (and added a fresh coat of paint in the process). Check out what's new at 501 Mission Place.
Bonus Webinar this week!
To celebrate our relaunch, Rob Hatch, John Haydon and Marc Pitman will be offering a FREE webinar to 501 Mission Place members on Wednesday, October 19 at 1PM ET.
In this dynamic and interactive session, discover how to unleash your organization's existing and latent strengths in order to foster adaptation and innovation. Rob, Marc and John of 501 Mission Place will illuminate the strategic impact your organization's culture, openness, and "human side" can make on its continued growth and success.
Join today and get access to this helpful, fun webinar!
John Haydon delivers social web strategy solutions for "the quick, the smart, and the slightly manic." Curious? Then connect up: Contact John by email, see his profile page, visit the John Haydon blog, follow him on Twitter and Google Plus or leave a comment.


This work is licensed under a Creative Commons Attribution 3.0 Unported.