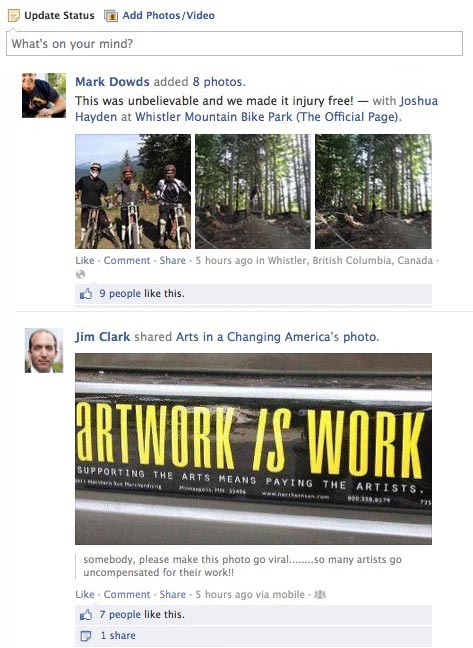 Target audience: Nonprofits, cause organizations, foundations, NGOs, social enterprises, businesses, educators, journalists, marketing professionals, Facebook administrators.

Facebook recently updated its news feed algorithm to feature organic content that's more relevant to each user.
The news feed is where the vast majority of the action happens. So your organization should take steps to make sure you're showing up in the new feeds of your fans.
Some of the factors that Facebook is using to decide which posts to display include:
Content that is timely and relevant

Content from a source the user trusts

Content that isn't trying to game the news feed (for example, asking for people to like the content)

Content the user wouldn't view as a low-quality meme

Content the user wouldn't complain about seeing
Based on these criteria, Facebook built what it says is "a new system to detect content defined as high quality" using factors such as:
The completeness of the page's About tab
How much the page fan base overlaps with the fan base of other high-quality pages
What does this mean for your organization's Facebook account?
There is no trick to getting ahead in Facebook's news feed other than serving your community with valuable content
Facebook is trying to display more high-quality content from reputable Facebook pages and filter out content from pages seeking to game the news feed.
This change in the news feed means going back to square one and asking yourself:
The bottom line here is that there is no trick to getting ahead in Facebook's news feed other than truly serving your community with valuable content. I think this will always be the case regardless of how much Facebook changes the news feed algorithm.
What do you think?
Related on Socialbrite
• 5 ways to dominate Facebook's new news feed
• 15 ways to enhance your Facebook influence
• How nonprofits can take charge of Facebook's news feed
• 13 ways to boost your Facebook Page reach John Haydon delivers social web strategy solutions for "the quick, the smart, and the slightly manic." Curious? Then connect up: Contact John by email, see his profile page, visit the John Haydon blog, follow him on Twitter and Google Plus or leave a comment.


This work is licensed under a Creative Commons Attribution-NonCommercial 3.0 Unported.