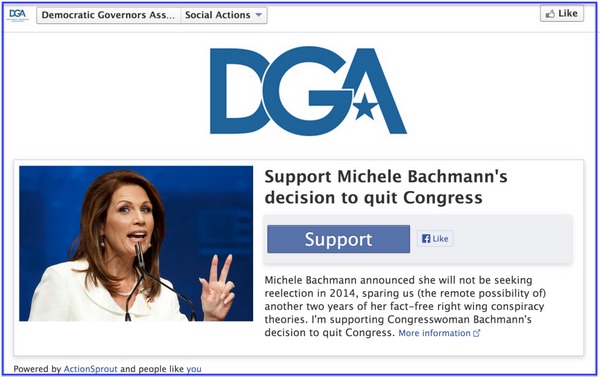 Run more efficient list-building campaigns through the use of social media & third-party tools
Target audience: Nonprofits, cause organizations, foundations, NGOs, social enterprises, businesses, educators, Web publishers, Facebook administrators.

Any organization serious about growing its email list eventually asks: "What's a more effective place to acquire emails, Facebook or my website?"
Unfortunately, there's no quick answer for this one. But there is an awesome case study from Jon Stahl, director of strategy for ActionSprout, a startup that has built a suite of tools to spur engagement on Facebook. And the results may spur you to try ActionSprout, or a similar service, for your next campaign. (We wrote about ActionSprout late last year.)
First, a quick overview. The Democratic Governors Association has a Facebook page with about 232,000 fans. In May and June, DGA ran 11 campaigns on Facebook, each of which they promoted with one to three Facebook page posts.
Here are some of their results with ActionSprout: Continue reading →