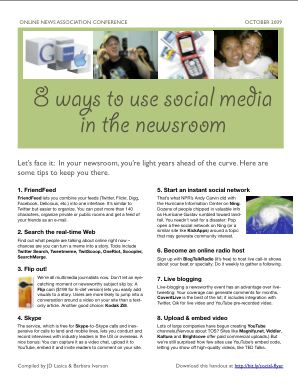 For the annual conference of the Online News Association this weekend, I've pulled together two new printable handouts: 8 ways to use social media in the newsroom, available at http://bit.ly/social-flyer, and 6 Twitter tools for journalists (PDF — and see the accompanying post). I'm speaking on the aptly named Social Media Mania panel on Saturday.
I think these are two of the nicer handouts I've produced, using Apple Pages, part of the iWork suite. These downloadable documents are part of the ongoing series of social media guides and tutorials that Socialbrite has been producing for social change organizations, nonprofits, journalists and anyone interested in effective use of social media.
While the PDFs are spiffy-looking, they're less than optimal for search engines and for the disabled, so I'll mirror the handouts here in html.
8 ways to use social media in the newsroom
FriendFeed
1An uber-aggregator of your feeds, FriendFeed is like Twitter but easier to organize. You can post more than 140 characters, organize private or public rooms and get a feed of your friends as an e-mail. But FriendFeed is more than an aggregation tool: It's a virtual watering hole where you can see what's on the mind of your friends and colleagues.
Search the real-time Web
2Find out what people are talking about online right now — chances are you can turn a meme into a story. Tools include Twitter Search, Tweetmeme, OneRiot, Scoopler.
Flip out!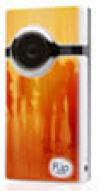 3We're all multimedia journalists now, right? Never let another eye-catching moment or newsworthy subject slip by: A Flip cam ($199 for hi-def version) lets you easily add a visual element to a story. Users are more likely to jump into a conversation around a video on your site than a text-only article. Kodak's Zi8 is also a good choice. Continue reading →