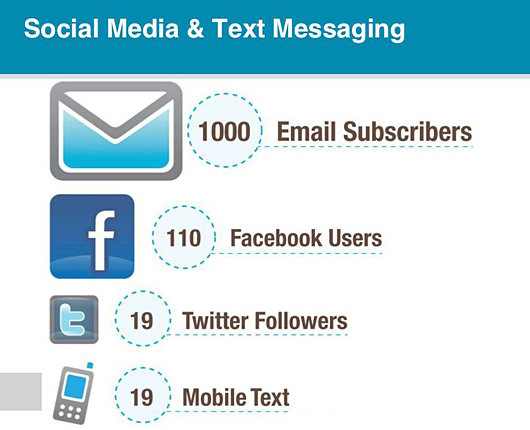 Email outreach still dwarfs social media and mobile.
Benchmarks study: How does your nonprofit stack up?

At the Nonprofit Technology Conference in Washington D.C. the other day, I was one of 50 attendees who got a sneak preview of the fascinating 2011 eNonprofit Benchmarks Study, the big annual study that shows how nonprofits are using social media, email and much more.
You can download the free 36-page report from M+R Strategic Services and NTEN. The study — the fifth Benchmarks report — collected data about email messaging, email list size, fundraising, online advocacy, Facebook, Twitter and text messaging from 40 U.S.-based national nonprofit organizations for the calendar year of 2010. The study's authors analyzed the results of 672 million email messages sent to over 17 million list subscribers; more than $114 million in online donations and 2.9 million advocacy actions.
Key fIndIngs of the report
Online fundraising showed steady growth for participating groups in 2010 despite the current economic climate. Most groups saw a 10% increase in dollars raised online from 2009 to 2010.
The 2010 advocacy response rate was 3.3%. From 2009 to 2010, advocacy response rates declined 7% on average.
Not surprisingly, advocacy emails had the highest open, click-through and response rates while fundraising emails had the lowest click-through rate.
Annual email list churn was 18%.
Online fundraising revenue grew overall by 14% between 2009 and 2010. This rebound was led by an enormous 163% increase in the International sector due to emergencies like the earthquake in Haiti and flooding in Pakistan. However, all sectors saw an increase of some size in overall revenue from 2009, driven by an increase in the number of online gifts.
On average, nonprofit Facebook Pages had 15,053 users, defined as people who "Like" a Page (but this includes large nonprofits).
Facebook users were much more engaged with nonprofits in the Wildlife / Animal Welfare sector than in any other sector.
On average, an organization's text messaging list size was 1.9% of its email list size.
Annual mobile list churn was 14% in 2010.
The graphic at the top of this article conveys, at a glance, why no one is suggesting that nonprofits abandon email marketing in favor of social media or mobile. For every 1,000 email subscribers for your nonprofit, you'll have, on average, 110 Facebook fans, 19 Twitter followers and 19 mobile text subscribers. What those numbers don't show, however, is that engaged fans on social networks, and connected fans on mobile devices, tend to be more loyal, to respond at higher rates to advocacy campaigns and to donate at higher rates than the average user. Continue reading →