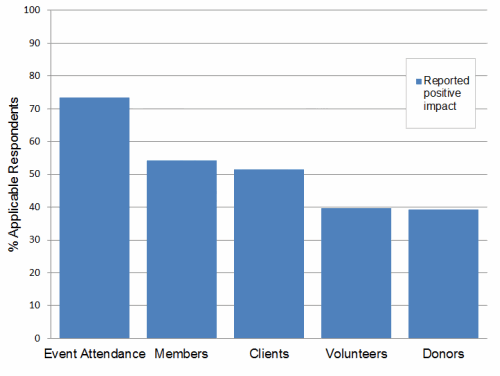 Upcoming Idealware report shows Facebook helps with event attendance, membership, volunteerism & even fundraising
Guest post by Kyle Andrei
Idealware
Which nonprofits are seeing success with their Facebook Page? In February Idealware distributed a survey (through an informal email outreach) to more than 500 nonprofit professionals who were using Facebook at their organizations. Well, the data is back, and we thought we'd share some of our most important findings.
How successful are nonprofits in attracting new constituents? We asked survey respondents whether or not they felt they had attracted new constituents (donors, members, volunteers, clients or event attendees) through their Facebook page. And people did indeed see successful results.
At top are the percentage of respondents who who said they they'd seen "a few" or "substantial" new constituents, resulting in a positive impact.
Nonprofit reps felt that Facebook was working best for them in attracting event attendees. Given Facebook's Events app, this information isn't terribly surprising. It's a simple matter to create your event on Facebook, distribute it to your fans and let them distribute the invitation to their friends.
People didn't see as much success with new donors and volunteers, though. Why is that? Are Facebook relationships too casual to warrant giving time or money to an organization? Or are potential donors or volunteers not on Facebook in the same numbers?
In addition to constituent impact, we also asked respondents about what we call "measured results" — those goals that don't directly involve constituents and can be easily quantified. These included website traffic, donations, email list size and moving people to take advocacy actions. Continue reading →