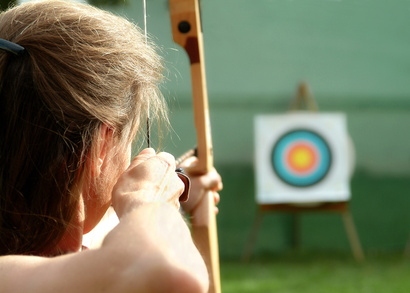 Target audience: Nonprofits, cause organizations, foundations, NGOs, social enterprises, businesses, anyone with a Facebook page.

Archers don't aim at the point halfway between the arrow tip and the target. If they did, they would never hit the bullseye.
In the same way, many nonprofits still focus too much on counting Facebook likes and Twitter followers as if these metrics are the end goal, and then feel frustrated when they're not getting the results they expected.
Going beyond counting likes and followers means asking a number of quantitative and qualitative questions about:
Reach: 10,000 Facebook fans doesn't mean you're reaching 10,000 people. In fact, a Page with 10,000 fans reaches only about 1,700 of their fans with updates.
Surprise, surprise! Additionally, you want to be asking:
Who are you reaching?
How are you reaching them?
How frequently do you reach them per week or month?
Reaction: 10,000 Facebook fans means nothing if they aren't talking about your nonprofit. And that's the whole point of your using social media, right?
People who are talking about you are usually a subset of people you're reaching. Some questions you want to ask about people talking about you are:
Who is reacting?
Where are they reacting?
What are they saying?
What are we saying that get's them talking?
Action: No amount of followers and fans have any value unless you're converting people. New members, subscribers, donors, etc. Continue reading →