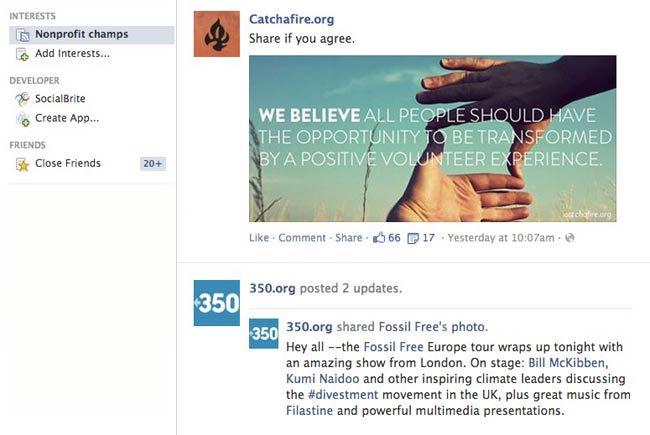 An easy-to-create Facebook interest list.
Create lists to share others' updates
Target audience: Nonprofits, cause organizations, foundations, NGOs, social enterprises, businesses, content marketers, educators, Web publishers, journalists, Facebook administrators.

One of the biggest challenges nonprofits have is finding content that will resonate with their community.
A little known but powerful way to curate content is with Facebook interest lists. (Here are Facebook articles about the topic.)
Interest lists, if you don't know, are lists of pages that Facebook users can create and access from their sidebar, shown at top. It can consist of a nonprofit organization, a cause, a person's public page or something else.
Below are four steps for using Facebook interest lists to curate high-quality content:
Use graph search to find relevant pages
1Before you start creating interest lists, ask this question: What Facebook pages do my fans actually like? This is where Facebook Graph Search comes in handy.
Below are six Facebook Graph search strings you can use right now (watch this video tutorial on using Graph Search). Continue reading →