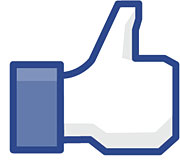 Target audience: Nonprofits, NGOs, foundations, social enterprises, brands, cause organizations, small businesses.

No doubt you're aware that more and more websites are getting more traffic with Facebook's Like button.
Facebook has been measuring the impact of these social plug-ins for almost a year now. Here's what they've found:
More traffic. The average site received a 300 percent increase in referral traffic.
Lower bounce rates. People who sign in with Facebook at The Huffington Post view 22 percent more pages than those who don't.
Now before you go and slap a Like button on your website, follow these placement tips to get the best results:
Placement at the top of blog posts
Many people who read content on your website will scan the title and maybe the first couple of paragraphs. In their mind, they're thinking, "Is this worth sharing?"
With a Like button prominently at the top of articles, they'll be able to take the action you want them to take!
Placement on single bits of content
When a user clicks on a like button, they send that specific article (or video, or blog post, or product, or event) into their New Feed, which can be a fast-moving stream for many Facebook users. Concise and highly specific content tends to get the most engagement.
Blogging is a way to create a constant flow of this type of "likable" content.
Placement above the fold
As with any landing page, you must have the call to action (in this case clicking Like) above the fold. When I put my email subscription form prominently up at the top of my site, I saw a 300 percent increase in new weekly email subscribers. The same holds true for Like buttons. Continue reading →