On Thursday Facebook launched a completely new version of Pages, to help you "manage communication, express yourself, and increase engagement."
There are three significant changes to Facebook Pages, in addition to several minor changes:
Log in as Page or Profile – You can now toggle between being logged in as a Profile or logged in as a Page. When logged in as a Page, you can comment and like content on other Pages as a Page. A single user name and password is all that's required for both modes.

New layout mirrors Profiles – Pages now have the same layout as Profiles. The tabs at the top of Pages are now located in the left-hand sidebar, under the main icon. You can also feature your favorite Pages on the left, and recent photos and information about your organization at the top (where tabs were located).

More relevance – Facebook Pages now have an "Everyone" filter on the wall that displays content in order of relevance. Content that a user's friends have interacted with, followed by posts that have received the most feedback are displayed – with the most relevant content at the top.
How to toggle between 'Page' and 'Profile'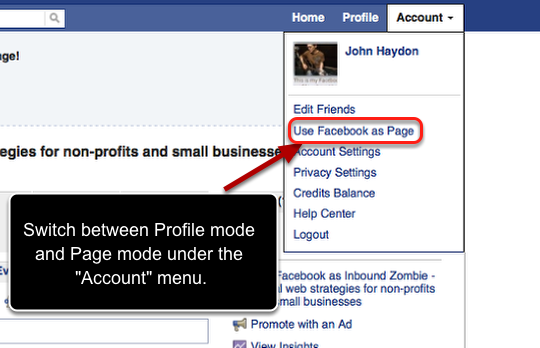 One of the biggest changes for Page admins is the ability to toggle between "Profile" mode and "Page" mode (if you administer multiple Pages, you'd be prompted to choose one Page to log in as).
But why would you want to be logged in as a Page?
Being logged in as a Page allows you to "like" other Pages, comment on other Pages, comment or like content on other Pages – all done as a Page! This means that you can create more exposure for your nonprofit in ways that Facebook users are familiar with (instead of tagging Pages). This also means you have to be more careful about coming across as spam. Continue reading →