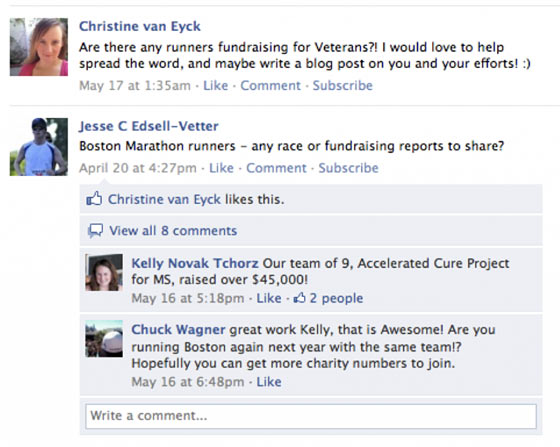 Remember Facebook Groups? A screenshot from the FirstGiving for Runners Group.
Groups is where real community engagement is happening
Target audience: Nonprofits, cause organizations, foundations, NGOs, social enterprises, businesses, educators, Facebook members.

Afriend recently asked me: "What are you excited about now in Facebook?" Without hesitation, I replied, "Facebook Groups." Yes, Facebook Groups, not Pages. Written off and abandoned by almost every organization I knew once Pages beefed up its functionality three years ago, Groups is where the real community engagement is happening now.
Groups give you notifications, document uploads, group chat, threaded commenting, email messages about group events and mass messaging to in-boxes
I'll admit that I, like so many consultants, advised clients to close their Groups and focus on Pages a few years ago. With good reason: Facebook came out with the Like button that tied Facebook Pages to websites and almost every Web interface. Facebook poured its time and promotion into Pages, making them even more robust with deep analytics, applications, and utility. There was no "join" button offered to join a Facebook Group, only a poorly adopted "send" button.
In late 2010, Facebook revamped Groups entirely and they began to take off. The "new" Group features include notifications of group actions and activities, document uploading, group chat, threaded commenting, inbox messaging about group events, and mass messaging to inboxes (described in more detail here). This was when everyone I knew began to explore Groups once again.
Why am I so excited of late about Facebook Groups? Why now?
The answer lies in what I've begun to realize that Facebook Pages cannot offer: real community and deep engagement. Continue reading →