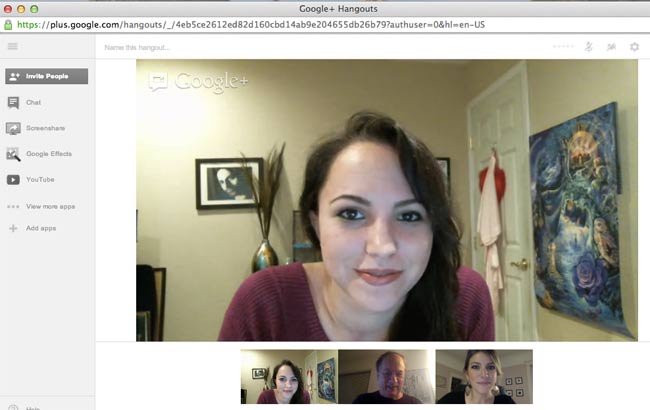 Heather, JD and Shannon on a Socialbrite video chat using Google Hangout last night.
Tips to take advantage of real-time collaboration
Target audience: Nonprofits, cause organizations, foundations, NGOs, social enterprises, businesses, project managers, educators, journalists, general public.
Guest post by Renee Alexander

Google Hangout is a super easy way to hold video conferences with multiple individuals or groups of people.  In addition to being easy, it is accessible to all of your employees, constituents and volunteers as anyone with a Google account can take part in a Hangout without having to download any additional software or sign up for anything new.
With the ability to video chat with up to 10 people or accounts, Hangout (technically "Hangouts," but most folks seem to drop the s) is a great option for personal live chats with key stakeholders. Skype, which has offered video chat for longer, limits you to two participants for a free account. Google has a great tutorial on how to use Hangout. Continue reading →