There is an inherent tension between strategy and tactical implementation of using social media to support a campaign's objectives or nonprofit's mission, whether the goal is fundraising, marketing, or taking action. Those who are just beginning to incorporate social media into their strategic thinking struggle with: "How do we get to know and understand how a particular tool can help us meet our goals, but not let the tool drive our decisions?"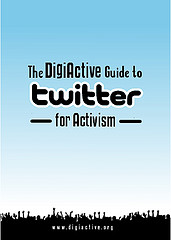 And seasoned practitioners are debating whether a particular social media tool is in and of itself a strategy.   And, while it may be an argument about semantics, it further illustrates this tension.
The "is Twitter a strategy or tool debate" was fueled as Twitter got lots of attention (and  hype) as part of the coverage of last week's protests in Moldova. Ivan Boothe points out in his post "The Fire and Food: Why There's No Such Thing As A Twitter Revolution," the real-time use of Twitter as an organizing tool is a not revolution.  Twitter has been used during the G20 protests and crowd-sourcing the location of a torch when it was passing through San Francisco.   And while quite, different from the "mainstream" use of Twitter by nonprofits, Ivan warns against tool-driven decisions for activism campaigns:
It's certainly exciting to see technology being used in ways that amplify and extend the impact of movement organizing. I think it's easy, however, to misread the technology as the cause of the movement rather than as simply a tool of it.
Fire, for instance, was a society-changing tool. Its revolutionary potential, however — cooking food and thus making it more digestible, nutritious, and lasting — was only realized through its strategic use.