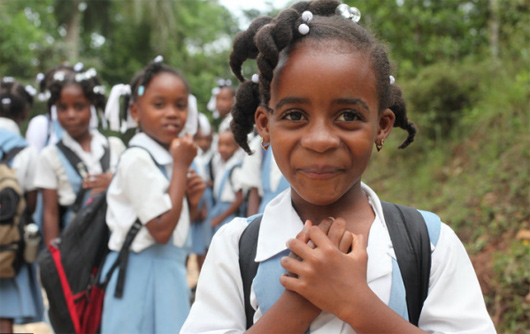 A young girl from Jacmel, Haiti.

'What is the one thing we can take back from Haiti with us to tell people?"
That was the question I asked people while in Haiti over the weekend. For there is a lot going on. A lot of sadness. A lot of frustration. A lot of violence. Struggles to reconstruct, rebuild, take a country that was already the poorest in the Western Hemisphere and have it come back better than before.
"Tell the good. There is positive happening here. The (traditional) media only tells the stories of hardship but there are a lot of positive stories coming out of Haiti too."
And indeed there is. Smiles and laughter. People helping each other. Community leaders stepping up. International aid organizations committed to helping in the reconstructions. Houses are being built. Schools are in session. A presidential election is right around the corner.
So that's what I want to do. I want to honor the wishes of the people I met in Haiti during my trip last weekend. I want to tell stories that haven't been told 100 times. It's important for us – us in the privileged developed country – to remember that in the aftermath of a natural disaster most other countries don't have the option to clean up like we do. Continue reading →