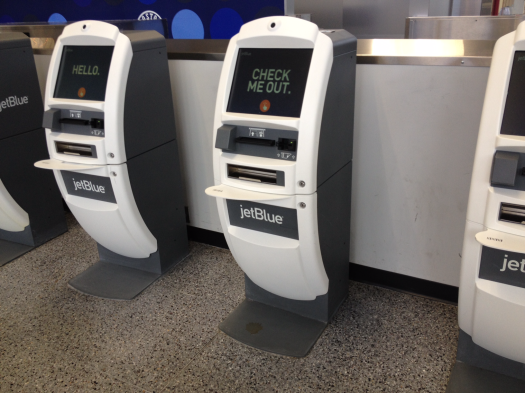 Keeping your donate pages simple and foolproof, like the airline's kiosks, is the name of the game
Target audience: Nonprofits, cause organizations, foundations, NGOs, social enterprises, general public.

All nonprofit marketers should fly JetBlue at least once. Just to use the check-in kiosks. If you're not familiar with them, take a look at the one shown above.
Most of us hate the check-in process at the airport. The mixed up flights and delays. Making sure your bottles of hair products and lotions are all in order. And TSA guards, although I find them pleasant most of the time.
JetBlue isn't going to change the TSA, but they have made make the check-in process painless!
1. No needless info: The welcome screen tells you exactly what to do (swipe your credit card or enter a confirmation number). They don't describe every step you'll need to go through, just the step you need to know right then.
Are your donation pages overcomplicating things with  needless information? Continue reading →