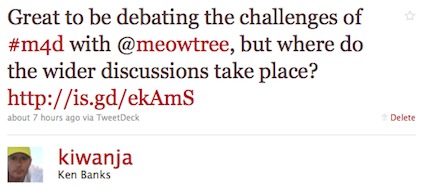 Where are the best sites for people to stimulate debate around mobile technology?
The other week I wrote a post on the difficulties of running a "mobile for development" – or m4d – project. I tried to make it challenging, and was hoping to stir up some discussion around the merits of mobile-initiated development projects versus development-initiated mobile projects.
Unless you're one of the bigger technology blogs – Mashable, TechCrunch, Scobleizer and so on – it's hit-and-miss whether or not a post will get the traction you're looking for. Apart from a couple of dozen tweets and a dozen or so comments, the post didn't generate as much debate as I'd have liked. But it did get me thinking – if these kinds of discussion weren't taking place here, then where were they taking place?
I'm regularly asked at conferences for hints on the best sites for people to post questions and stimulate debate around mobile technology, and I always struggle to give an answer. It seems crazy that, for a discipline that began to fully emerge probably about seven or eight years ago, there still isn't a genuinely active, engaging, open online community for people to join and interact with each other.
In order to get a sense of which communities exist, I recently sent out a message to a number of ICT4D and mobile email lists I subscribe to, and posted the odd message on Twitter. Very few people could suggest anything. A few people mentioned email lists that dealt specifically with sectoral issues, such as health, but not specifically with mobile (although mobile was a regular thread in many discussions). Only MobileActive suggested MobileActive, which was a surprise considering its positioning as a global mobile community with over 16,000 "active" members. Continue reading →