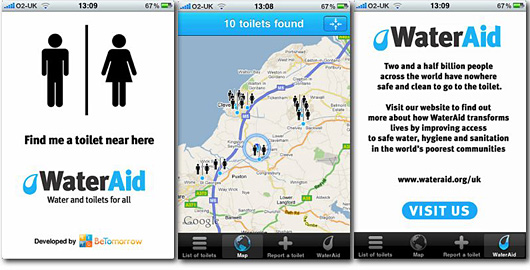 Image by Mexicanwave on Flickr
Some tips to get you on your way to your first mobile campaign
This is the first of a two-part series on how organizations can use mobile tech for social good. See part two: How nonprofits can get started with mobile.

2010 will go down as the year nonprofits began to understand the potential of mobile giving. From the Haiti earthquake to the Gulf oil spill to relief efforts in Pakistan and Chile, social change organizations have begun to harness the power of mobile for a wide array of causes.
Most famously, the American Red Cross's Text Haiti campaign raised $32 million in the month after the devastating earthquake that hit Haiti in January — about 10 percent of its donations came through mobile.
In texting, the response rate for getting people to call a decision maker on the organization's behalf is 4.9 percent — 6 times the email response rate.
That level of giving dwarfs the figure of $4 million for all mobile donations — for all causes — in 2009. Still, it's worth remembering that few organizations have the ability to galvanize support on a scale similar to the Red Cross and its Haiti efforts.
With tens millions of people now routinely using text messaging features — young people, especially, are in love with texting — the time is ripe for nonprofits to understand how they can use mobile fundraising not as a silver bullet but as one element of a broader strategy.
Here's a short primer on how mobile donations and campaigns work, with an emphasis on mobile fundraising.
Mobile fundraising: Getting started
There are generally five ways in which nonprofits and other organizations use text messaging:
fundraising
advocacy
information and public awareness
driving traffic to websites
text replies asking people to text in slogan ideas, request more information, etc.
If you're considering launching a mobile fundraising effort, you'll want to start off by conducting some research. Start by watching our interview with Nicola Wells of Fair Immigration Reform Movement, which does a masterful job with mobile, and read our primer on How to set up an SMS campaign system.
Next, check out the 2010 Nonprofit Text Messaging Benchmarks study. Prepared by M+R Strategic Services and MobileActive, it's a thorough analysis of mobile advocacy and mobile fundraising metrics for nonprofits. Some highlights from the study:
More than 80 percent of text message users come from email lists.
Growth rate is about 49.5 percent, though churn (turnover) is at 31 percent..
The response rate for text messaging where people are asked to make a call to a decision maker on the organization's behalf is 4.9 percent. That is six times the rate of emails requesting recipients to call in.
One example: The Human Rights Campaign used text messaging in an innovative campaign in which they asked supporters to text back the word "shop" and the name of a company, and the organization sent back a score from their Corporate Equality Index, telling them how supportive of lesbian/bisexual/gay/transsexual issues the company was. And Keep a Child Alive, with a push from Alicia Keyes, generated more than 90,000 new donors through its Text ALIVE Challenge (PDF).
What the donor sees in the mobile giving process
If you're a donor, here's how mobile giving may look from your perspective:
You decide to donate to a cause with your mobile device. In the United States, you're permitted to donate only $5 or $10 at a time. The amount is determined by the organization running the campaign, not by the donor. In the years ahead, expect some flexibility to enter the equation.
You use the SMS (short message service) application on your phone to text a keyword — such as HAITI, DOLPHIN, etc. — to a a five- or six-digit number called a short code. The organization involved determines both the keyword and the short code, and the short code cannot be used to send non-fundraising communications.
You'll then receive an automated response on your device from the organization, typically asking you to confirm your donation with a YES or OK.
Next, you'll receive an automated confirmation text message, typically thanking you for your gift and pointing to a website with additional information or letting you opt in to text message updates on the campaign.
On your next mobile phone bill, you'll see a charge for the amount you donated. (If you use a prepaid account for your phone, typically you won't be able to make a donation through a text message.)
What else you need to know
A few points to take into consideration:
• As your organization builds up its mobile list, you'll have only limited direct information about the donor — essentially, the telephone number. You can use it to send a follow-up text messages to a donor asking for more information — most often, an email address — or to ask the donor to opt into other text message campaigns.
• A donor must be allowed to opt out of further communications by replying to a message with the single word STOP or NO.
• There are only two U.S. nonprofits that work with the mobile carriers as conduits for mobile giving via text message: the mGive Foundation and the Mobile Giving Foundation. They'll need to sign off on your organization's eligibility for a campaign. The standards for The mGive Foundation are called Charitable Participation Standards (PDF), and the standards for Mobile Giving Foundation are the MGF Guidelines. While these standards require that your organization must have raised at least $500,000 in the previous year, there's a workaround for smaller nonprofis: You can use the Mobile Giving Foundation's relationship with Causecast.org, which it designates as a "mobile agency."
• Because of the mechanics of mobile transactions, it may take up to 90 days before the nonprofit receives the donation.
• At $5 or $10 a clip, mobile giving is a far cry from "the $71 average donation seen across the nonprofit sector in response to email solicitations, according to the Nonprofit Text Messaging Benchmarks study.
• Don't underestimate the resources it will take for someone on your team to manage a rapidly growing mobile list in a professional manner. Continue reading →