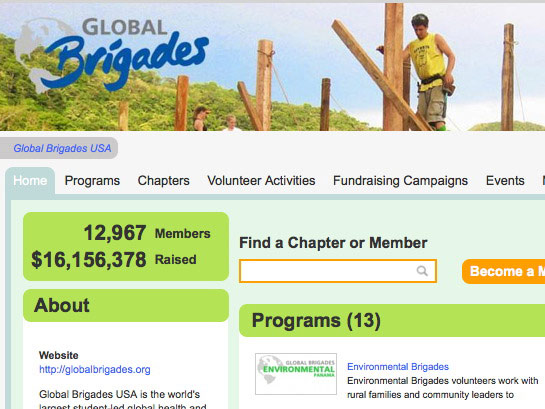 The Global Brigades page on Empowered.org.
Platform offers free fundraising option & other services
Target audience: Nonprofits, cause organizations, social change advocates, foundations, NGOs, social enterprises, educators, community organizations.
Guest post by Christina Hirsch
Empowered.org

In the fall of 2010, a group of us launched Empowered.org, a free platform designed to help groups making a social impact. Our platform allows organizations to manage members, fund-raise effectively, recruit volunteers, grow organically and share your successes with their community and the world.
We're made up of a group of passionate and proven leaders from the nonprofit sector, mostly volunteers, who want to share our knowledge to exponentially grow grassroots organizations using effective online strategies. We support nearly every type of service activity, including international trips, local community projects, run-walks and leadership conferences.
How we help the social good community
We know that money spent on fundraising means less money toward the ground projects that make a difference in the world.
The Empowered platform allows organizations to conduct all of their fundraising, volunteer coordination, donor reporting, event planning and chapter management on one platform. The secret to our approach is that the Empowered platform can be integrated into your organization's own website, allowing you to maintain you own branding and design all at no cost.
We believe that fundraising should be free. Because we work exclusively with social change organizations, we know that money spent on fundraising means less money toward the ground projects that make a difference in the world. We're proud to be completely free for social good organizations, with custom features available at a low pricing. Continue reading →