At last weekend's Open Video Conference, where 850 people turned out at NYU to discuss the future of open media, the standout open source project — at least for me — was Boxee. It's not so much a company as a cause.
This is a big subject, so, first, a word about the conference, put on by the Participatory Culture Foundation, Yale Internet Society Project, Kaltura, iCommons and the Open Video Alliance. I wrote about the promise of open source video earlier this month, participated in the conference, and now have a much better understanding of the issues at stake.
Jenny Attiyeh, host and producer for Boston-based ThoughtCast, conducted interviews at the conference and produced this riveting 4-minute video (embedded above) that looks at the importance of open media for getting the word out about the demonstrations and government crackdown in Iran.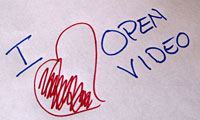 Mark Surman of Mozilla, whom I interviewed (I'll post the video in the coming weeks), gave a stirring talk and wrote this on his commonspace blog: "We love [the Web] because it's all about transparency, remixability, participation. It's about creativity and innovation. It's open. And it's wonderful.
"Sadly, we cannot say these things about online video today. To be sure, have seen a huge explosion of video creativity on the web. And web cams and phones have made video almost like an everyday language. Yet, the legal, distribution and technical underpinnings of online video remain much like television — opaque, immutable and centralized."