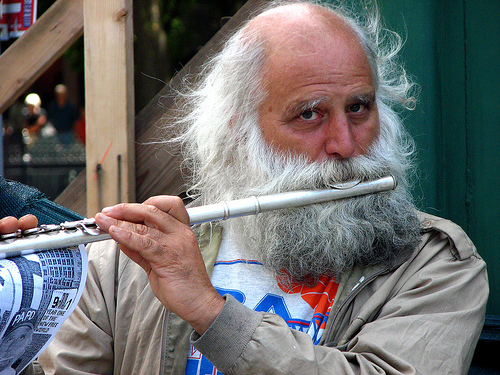 Can you shoot video or take a photo of a street artist in public — and post it on your blog?

Are you allowed to shoot video or take a photo or record music of a musician or street artist performing in a public place and post it online?
Attorney Colette Vogele of the San Francisco law firm Vogele & Associates offers the following thoughts (though this does not constitute legal advice):
(1) For copyright it depends on a couple facts. In the first instance, there is generally no copyright interest in a street performance because (presumably) the performer he has not "fixed" (eg., recorded) his performance in a "tangible medium of expression" (eg., a videotape, or computer disk). That's the good news, but don't get excited yet. You've got two other potential copyright problems, but ONLY IF the performance you record is considered a "live musical performance."
The two problems arise under section 1101 of the Copyright Act and the criminal anti-bootlegging statue that Congress passed a number of years ago (Title 18 USC 2319A).