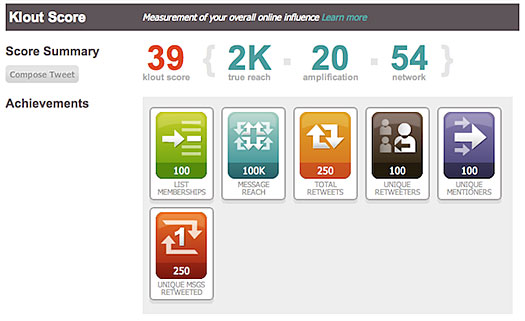 Guest post by Sarah Worsham
Sazbean
Klout is a measurement tool that gives an idea of your social web influence with Twitter. Their data is used by applications such as Co-Tweet, HootSuite and others.
Like Twitalyzer, Klout measures various aspects of Twitter usage and network, but focuses more on how influence and messages are spread via your network. Just because you have a lot of followers doesn't mean that all of them are actually listening and engaging with you (and they probably aren't). Klout gives you an idea of what your actual reach is and how engaged you are with your network, and vice versa.

When you first sign up with Klout, you'll be asked to connect with your Twitter and Facebook accounts (not sure what they do with the Facebook information, but I've since disconnected that to see what the impact is). You'll be given an initial score, but Klout takes a bit of time to chug through all your data to give you an actual score a bit later. It takes up to a few hours – they'll email you.
I'm not sure if this process is really clear. I was a bit surprised to get an email later saying that my Klout score had been calculated; since it seemed like it already had. Another surprise is that your initial Klout score will probably be higher than your actual one, since they have to take some time to process all the data.  I think this is confusing: They need to make it really clear that the initial score is just that. Maybe even just show some of the results with a clear message.
Klout score
Klout takes all the data they've processes and gives you a Klout score, based on actual reach and engagement and influence of your followers and network. They also award you achievements – but what achievements are possible to get isn't clear (seems like you'd like people to know what's possible so they can strive toward them). See image at top. Continue reading →