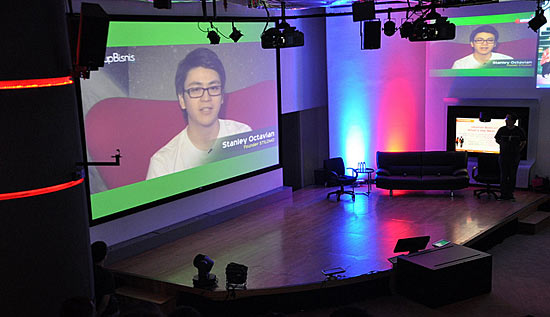 Ideation takes place May 7-9 in Chicago. (Photo by @america)
Planning for the month's top conferences & events

There are quite a few conferences and events in the nonprofit/social change/education sector this month, and I'll be at four of them: the Women's Funding Network Summit in LA on Thursday, the California State PTA annual conference next week, Google's invitation-only Internet at Liberty conference and an event at MIT. Other events include the 99% Conference, Ideation, the Government Web and New Media Conference and Fundraising Day.
You attending any of these?
For the full year, see our Calendar of 2012 nonprofit and social change conferences. If you're interested in social media, tech and marketing conferences, see this month's calendar on our sister site, Socialmedia.biz.
If you know of other events, please share by adding the info in the comments below. Hope to see you at one of these!
| | | |
| --- | --- | --- |
| May | | |
| Connecting Up Australia | May 1-3 | Sydney, Australia |
| As nonprofits continue to look at new ways to innovate in all aspects of their organization, Connecting Up 2012 will be a conference that will help you draw inspiration from speakers, both international and local. Meet other people working in the nonprofit sector, share your stories and strengthen each other. | | |
| Digital Leap | May 3 | Ontario, Canada |
| The Digital Leap conference is about communication in a digital world, particularly the combination of technology, strategy and creative in a digital age. The vision behind Digital Leap is to create an experience to inspire marketers and fundraisers in not-for-profit organizations to work in new ways and embrace best practices and current techniques. | | |
| Women's Funding Network Summit | May 3-4 | Los Angeles |
| This year's summit will engage women's funds and experts across sectors in new ways, including open dialogues, peer-sharing opportunities and workshops focused on the theme, "Women, Economics and Peace." Look for deep learning about economics, peace and our role in advancing justice through women's philanthropy. | | |
| 99% Conference | May 3-4 | New York |
| For two days, creative leaders from across industries will come together to focus on the mechanics of idea execution as speakers share lessons learned in a series of 20-minute talks and interactive master classes. | | |
| NCTech4Good | May 4 | Chapel Hill, N.C. |
| NCTech4Good is the regional network for sharing knowledge about technologies that can advance the mission of nonprofit organizations. | | |
| Ignite Phoenix | May 5 | Scottsdale, Ariz. |
| Ignite brings together entrepreneurs, technologists, DIYers, creative professionals and enthusiastic knowledge-seekers. O'Reilly has not yet announced if there will be an Ignite Week 2012 in dozens of cities around the world (but we expect it'll be back!). Ignite's motto: "Enlighten us, but make it quick." | | |
| Ideation Conference | May 7-9 | Chicago |
| !deation is designed to create a rich learning and sharing experience. The goal is inspiration, encouragement and new explorations for participants. Social entrepreneurs like Scott Harrison (charity: water), Ben Keesey (Invisible Children) and Scott Belsky (Behance) have spoken in past years. | | |
| Government Web and New Media Conference | May 16–17 | Washington, DC |
| The annual Government Web and New Media Conference is the premier networking and educational event of the year. Hear from peers and industry thought leaders on the latest trends and tools, learn practical strategies for improving your online strategies, see innovative projects happening throughout government and connect with colleagues from across the country. | | |
| Fundraising Day | May 23 | Toronto |
| The Association of Fundraising Professionals is the professional association for individuals responsible for generating philanthropic support for a wide variety of charitable organizations. The association advances philanthropy in society by enabling people and organizations to practice effective and ethical fundraising. | | |
| Cause Marketing Forum | May 30-31 | Chicago |
| The ninth annual forum will include Networking Galore, New Perfect Pitch Contest and sessions such as Bridging the CSR/CM Divide, The Great Breast Cancer Debate, Cause Marketing Innovation, Gaming for Good and more. | | |
JD Lasica, founder and former editor of Socialbrite, is co-founder of Cruiseable. Contact JD or follow him on Twitter or Google Plus.


This work is licensed under a Creative Commons Attribution 3.0 Unported.