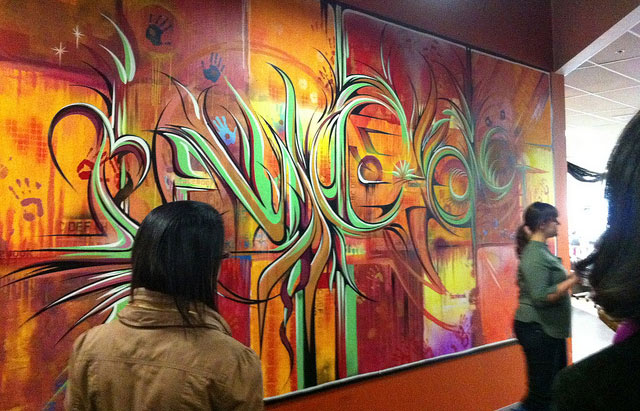 A scene from last year's Wisdom 2.0 conference (Photo by Mari Smith).
Plan for the month's top conferences & events

It's the the dead of winter, but the conference season is heating up, with a number of conferences in the nonprofit/social change sector worth attending.
I'll be attending the Marin Nonprofit Forum on Valentine's Day (awww) and following these events as well: Social Enterprise, Media That Matters, Wisdom 2.0, TED and the Nonprofit Communication Workshop. Are you attending any of these?
For the full year, see our Calendar of 2013 nonprofit and social change conferences. If you're interested in social media, tech and marketing conferences, see this month's calendar on our sister site, Socialmedia.biz.
If you know of other events, please share by adding the info in the comments below. Hope to see you at one of these!
Conference
Date
Place
February
Washington Nonprofit Conference
Feb. 7-8
Washington, DC
The Washington Nonprofit Conference is an annual two-day event where more than 800 fundraising and marketing professional in the nonprofit and commercial sectors gather to exchange innovative marketing and fundraising ideas, generate insightful solutions and think creatively. The conference hopes to offer a platform for improving public awareness and receptivity to direct and interactive market-driven philanthropy.
Social Enterprise
Feb. 9-10
Boston
This year's theme at the Social Enterprise conference at Harvard is Create. Connect. Commit. The gathering's organizers hope to catalyze a forum to create, to enable individuals and organizations to connect and to inspire one another to commit.
Marin Nonprofit Forum
Feb. 14
San Rafael, Calif.
The Center for Volunteer and Nonprofit Leadership in Marin brings together experts and practitioners for learning and reflection by convening the bi-annual Marin Nonprofit Conference and issue-based Forums. This year's Nonprofit Forum will identify what we have in common and how we can tell that story in a way that builds partnerships with donors and clients.
Media That Matters
Feb. 15
Washington, DC
Media That Matters (not to be confused with the long-running Media That Matters in B.C.) is an annual conference presented by the Center for Social Media at American University. It's designed for established and aspiring filmmakers, nonprofit communications leaders, funders and students who want to learn and share cutting-edge practices to make their media matter.
Strategic Co-Funding: A Grantmaker Convening
Feb. 21
Washington, DC
Grantmakers for Effective Organizations brings together a group of 150 grantmakers to explore different approaches to strategic co-funding. This daylong convening will offer participants opportunities to deepen their knowledge and advance their practice around key areas such as building trust; developing joint strategies, goals and common processes and more.
Wisdom 2.0
Feb. 21-24
San Francisco
Join Twitter co-founders Evan Williams and Biz Stone, Huffington Post founder Arianna Huffington, LinkedIn CEO Jeff Weiner, author Marianne Williamson and others at Wisdom 2.0, and explore the great challenge of our age: to not only live connected to one another through technology, but to do so in ways that are beneficial to our own well-being, effective in our work and useful to the world. This conference brings together people from the worlds of tech, business, spirituality, wellness and more.
ACM: Computer Supported Cooperative Work
Feb. 23-27
San Antonio, Texas
CSCW is the premier venue for presenting research in the design and use of technologies that affect groups, organizations, communities and networks. Bringing together top researchers and practitioners from academia and industry in the area of social computing, CSCW 2013 will build on this strong history with venues including papers, workshops, panels, a Doctoral Colloquium and more.
TED
Feb. 25-Mar 1
Long Beach, Calif.
The best moments at TED have often come from unexpected places. But this year, the organizers are pushing that to a new level, staging a global talent search to bring together the most remarkable lineup in TED's history. This year's theme: The Young. The Wise. The Undiscovered.
TEDActive
Feb.25-Mar 1
Palm Springs, Calif.
TEDActive is a curated community of 700 curious and energetic leaders who share an immersive week of TEDTalks (mainly through video links) and surprising experiences designed to inspire conversation, exchange and immediate action around ideas worth spreading. TEDActive provides a journey through critical conversation, joyful exchange and deep thought.
Nonprofit Communication Workshop
Feb. 28
Bentonville, Ark.
The Center for Nonprofit Communication at Drury University presents a one-day conference for nonprofit organizations, The Nonprofit Communication Workshop, that will provide nonprofit professionals with strategies for improving communication and creating stronger connections with donors, volunteers, businesses and the community.
JD Lasica, founder and former editor of Socialbrite, is co-founder of Cruiseable. Contact JD or follow him on Twitter or Google Plus.


This work is licensed under a Creative Commons Attribution 3.0 Unported.