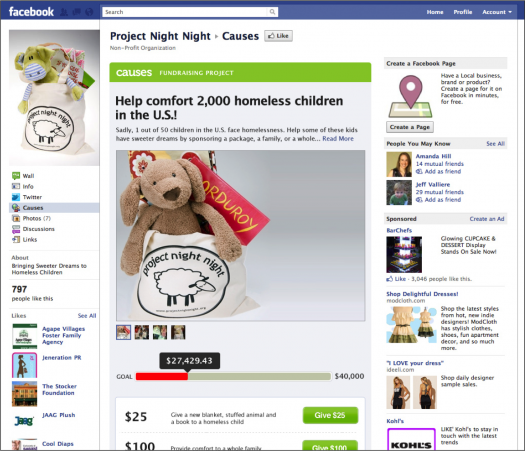 Project Night Night's Causes Fundraising Project page.
New Facebook tab spotlights impactful projects on Causes
Guest post by Susan Gordon
Causes
Causes has just released a fundraising tab for Facebook Pages, which is great news for nonprofits that have been investing in Facebook but struggling to find the right fundraising solution for that audience. It's also a huge opportunity to bring your social media community into the inspiring fundraising campaigns you're running through other channels. So far this year, $3 million has been donated to Causes fundraising projects, and nonprofits of all sizes, budgets and missions are finding they are the most effective way to do online fundraising.
To add the tab to your Facebook page, you can follow the step-by-step instructions on the Causes blog or follow these simple steps:
Go to www.facebook.com/causes, log in to Facebook and click "Add to my Page."
Go to your Page and click Causes in the left sidebar.
Click the big green "Get Started" button, where you'll be able to find your nonprofit and add it to your Page. The default tab will look like this: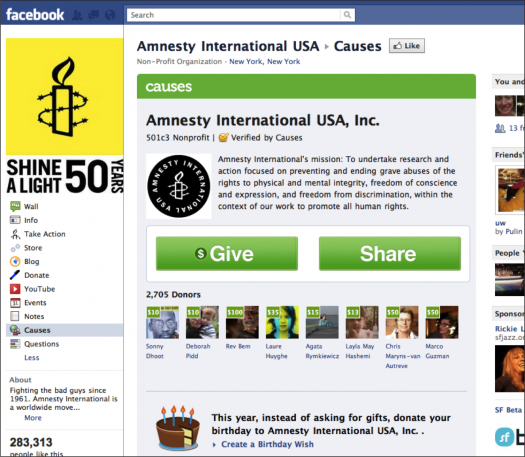 If your nonprofit would like to customize this tab, add videos/photos, price points, etc., create a Causes Fundraising Project and your tab will look like the one at the top of this article from Project Night Night. (See? If your nonprofit does not have a Causes Fundraising Project, your page will look like this.)
Free, customizable, socially enabled donation pages
In addition to being able to feature a project on your Page, Causes Fundraising Projects are free, customizable and socially enabled donation pages that nonprofits can promote through all their social media channels. Fundraising Projects help nonprofits tell inspiring stories of impactful projects ($10,000 for a school, $2,304 for a scholarship, $54,000 for a rally, etc.) that motivate supporters to donate. After each donation, donors are then asked to promote the project to their networks of friends and family on Facebook. Causes also provides back-end donation tracking and follow-up tools to help you build relationships with donors in the Nonprofit Partner Center. Continue reading →