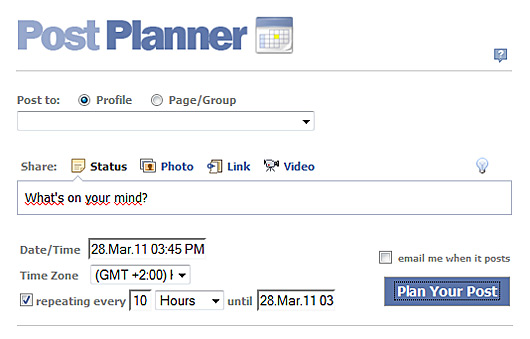 PostPlanner provides key analytics to identify your sweet spot
Target audience: Nonprofits, cause organizations, foundations, NGOs, social enterprises, businesses, social marketers, anyone with a Facebook page.

I've been recommending PostPlanner to many of my clients (and friends) for months now. If you don't know what PostPlanner is, it's a way to schedule, manage and measure updates on your Facebook Page (here's a video tutorial).
They recently added a feature that allows you to quickly see what time of day is best for you to update your page.
Now Facebook Insights does allow you to download a CSV file and figure this out manually, but it takes a while to prepare the data for analysis (date posted and time posted live in the same cell – yuk).
How to view the best posting time in PostPlanner
With PostPlanner, all you have to do is rank your updates by likes, comments and/or clicks to see what time of day seems to be most prevalent.
The following two screenshots show what seems to work best in terms of time of day: Continue reading →