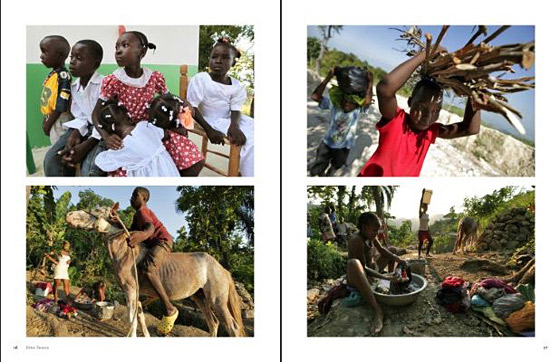 A one-off magazine produced by the American Red Cross International showcasing earthquake relief efforts in Haiti.
DIY publishing for your nonprofit: How to make it happen
This is the second of a two-part series. Also see:
• Part 1: 6 business reasons for nonprofits to publish a magazine
Target audience: Nonprofits, cause organizations, foundations, NGOs, social enterprises, educators, Web publishers.
By Lindsay Oberst
Socialbrite staff

Yesterday we invited you to think about whether a print magazine might make sense for your nonprofit or social enterprise — and we use a broad definition of magazines here to include a print newsletter, whitepaper, special report, annual report, event keepsake or a catalog of fundraising merchandise and so on.
Now that you're sold on the idea, or are at least considering it, how do you make it happen?
The first thing you need to consider is how much time, money and effort you have available to take on the project. Do you already have people who can write, design, produce and perform other required tasks? Or do you want to offload some of the work to a contractor or publishing firm?
In the past, only large organizations with large audiences and budgets could produce a quality publication. But print-on-demand technology gives organizations of any size the ability to produce print publications in whatever numbers they need in a cost-effective way. Whether it's a regular magazine, a one-time publication or any other printed product, the possibilities are only beginning to be explored in the social good sector.
To get the work done, you'll likely want to consider on-demand technologies using a combination of staffers, freelancers or agencies (yep, like Socialbrite). And that's what we'll cover for the bulk of this article.
Another way to go is to find a custom publishing company to take care of everything for you, for a price. Custom publishing companies handle everything — even billing, if your magazine charges a subscription. A good place to look for these companies is the website of the Custom Content Council, a group of companies offering publishing services to commercial and nonprofit organizations. You can also do an online search for custom publishing companies and compare offerings. Many companies offer nonprofit discounts, such as Dazzle Printing, which offers a 10 percent discount and free proofreading to all nonprofits.
Choosing to self publish: The DIY option
Self publishing allows anyone to have a magazine without an established third-party publisher. (And by the way, there may be occasions when you want to self-publish a short book.) It's become easy to publish a magazine using vendors, including MagCloud, FeedBrewer, Issuu, Calameo, Mstand and Scribd. Let's summarize what they have to offer.
MagCloud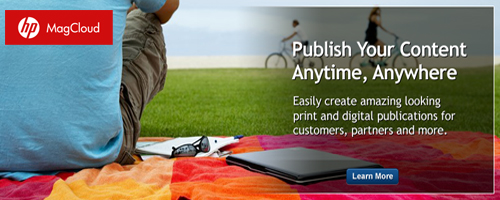 MagCloud handles the printing, distribution and shipping of your content. They enable you to publish a beautiful magazine-format publication in print or as a digital version. For print, they can produce runs as small as one and as large as 3,000. Continue reading →