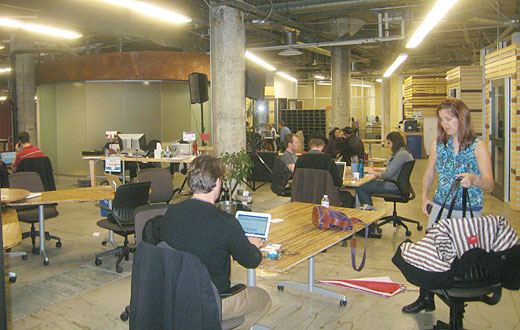 San Francisco has a new co-working space for "radical collaboration": The Hub SoMa.
There is poetry here: The Hub SoMa is located on the revamped first floor of the Chronicle building at Fifth and Mission. While one institution falters, another is born as a collaborative incubation space for new social enterprises. The 8,600-square-foot space, dubbed a Social Innovation Complex, will feature art exhibits, offices and large event spaces for members.
I already paid a visit to the Hub SoMa last week for a presentation by Reporters Without Borders, the international press freedom organization. Hub SoMa is a gorgeous space, one where entrepreneurs of all stripes can come together, compare notes and move forward where interests coincide. Two of the new tenants there include Intersection for the Arts and TechShop.
Thursday night is Hub SoMa's Launch party — get your tickets for $10. 350 people have signed up so far. I'll try to make it. Continue reading →