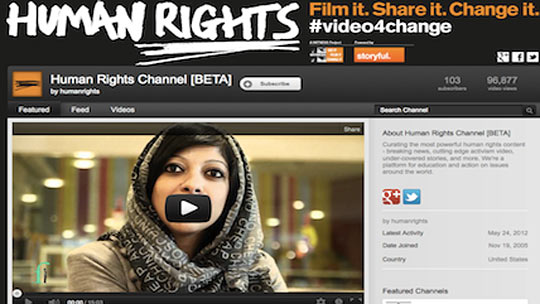 People are harnessing the power of video to tell their stories
Target audience: Human rights advocates, NGOs, cause organizations, foundations, nonprofits, social enterprises, journalists, educators, public.
Guest post by Matisse Bustos Hawkes
WITNESS

When I first started working at WITNESS almost exactly nine years ago, Web video was still in its infancy. YouTube was still a dream and two years from launching and "user-generated content" was three years away from being declared Time magazine's coveted "Person of the Year" (with the emphasis on the person being "you").
WITNESS was founded on the belief that powerful personal stories about human rights abuses shared via video could inspire change. We partnered with human rights organizations around the world, provided cameras, trained them in the basics of filming, how to conduct interviews and gather B-roll, and eventually, produce videos. The videos became part of their campaigns and messages directed at decision-makers in government, business, communities and courts to advocate for specific and lasting change, for justice and accountability.
I share this background to how we operate in the world because, as any reader of Socialbrite will know, the last few years have brought tremendous and fast-paced change in video technology, how it's used and who it's used by. And that last point is perhaps what is changing what we do at WITNESS the most. Continue reading →