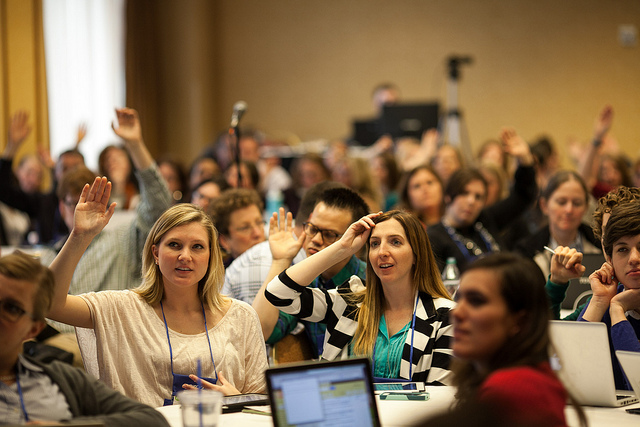 At the NTC session on social data (Photo by JD Lasica).
And tips on how to reinforce habits for social good
This is the first of two articles on NTC 2013. Also see:
• Nonprofits, online giving & secrets from the Obama campaign (the 2013 eNonprofit Benchmarks Study)
Target audience: Nonprofits, cause organizations, foundations, NGOs, social enterprises, educators, journalists, general public.

Last week's Nonprofit Technology Conference in Minneapolis was the fourth NTC I've attended in the past five years. I spoke twice at last year's event, but this year I had the freedom to roam the hallways in search of interesting people and ideas that are shaping the nonprofit sector.
NTEN's NTC serves an invaluable role as the one central gathering spot for the nonprofit community — a place where those of us involved in the sector (I run Socialbrite, a leading social media consultancy for nonprofits) can see friends and colleagues, keep abreast of new trends and, most importantly, encounter smart, interesting, passionate people we haven't met before.
Oh, and I took a few photos, as usual. Here's my 70-photo set on Flickr.
Highlights from the Nonprofit Technology Conference
There were far more interesting sessions than I was able to attend, so here are just a few takeaways that I managed to scribble down:
• Kathryn Engelhardt-Cronk, at lunch: "Storytelling without data is just an anecdote. Asking people to donate on the basis of anecdotes – those days are long gone." Continue reading →