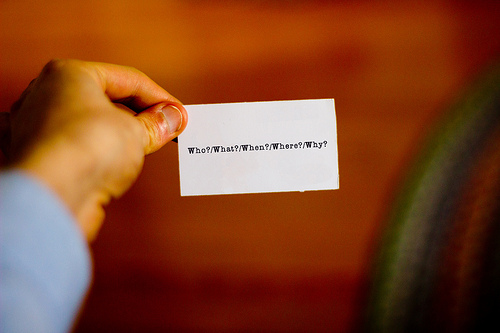 Begin by questioning assumptions & looking at the data
Target audience: Nonprofits, cause organizations, foundations, NGOs, social enterprises, businesses, community managers, Facebook administrators.

Social media used to be all about assumptions: Who is online, what they are doing, how much they love you, whether or not your content resonates. When nonprofits and companies began rapidly adopting social media in the late 2000s, activities were based on assumptions and experimental ideas. Fast forward five years, and we now have at our disposal some solid measurement and data collection software systems, research studies, case studies, demographic data and a relatively savvy social media user base. The problem? We're still working from hunches and assumptions.
If your organization is not getting what it wants from its social media engagement, question your existing assumptions and look deeply at your own data. Here are a few good questions to ask to take your social media to the next engagement level.
6 questions for social media teams to ask
1Are our social media activities tied to SMART (specific, measurable, attainable, relevant, and time-bound) goals? Surprisingly enough, I hear "no" when I ask that question nine out of 10 times. The doing of social media is usually what consumes staff and organizations. ("We have to be on Facebook!" "We need a Twitter account, right?") Why? To what end? When we begin by knowing what goals the organization needs to achieve, the direction of social media implementation becomes clear. Here is a relevant case study on how one organization did just that. Continue reading →