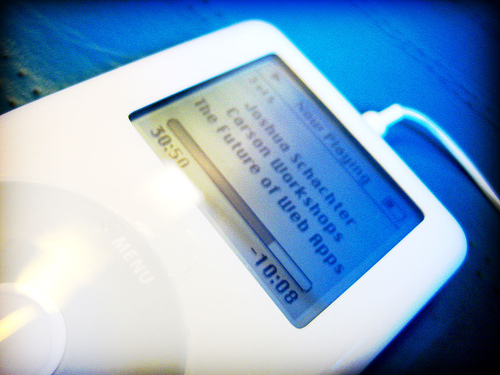 There are likely better ways to engage your supporters
Target audience: Nonprofits, NGOs, cause organizations, social enterprises, independent sites, educators.
By Kyria Abrahams
Socialbrite staff

The human-interest work done by nonprofit organizations naturally presents a rich trove of compelling topics for the world of social media. In addition to Twitter and Facebook, podcasts may appear to be an effective way to push a good story to the public and generate interest for your cause.
The issue is this: Few people listen to podcasts anymore. And if they do, it's nearly impossible to measure.
"Podcasts were a moment in time," said Matthew C., who works as the global marketing specialist for an international nonprofit in New York. "iTunes automatically downloads everything [you subscribe to]. So we see you downloading. The question is: Are people listening? We have no way of knowing if the public is actually engaging with the content."
Perhaps this is why the top five results for the search term "Top nonprofit podcasts" brought up links from as far back as 2006. Or why when I told Matthew that I was writing an article on podcasts, his immediate response was: "Choose another topic."
Where did podcasts go? Should your organization should destroy all existing podcasts and never utter the words mp3 and iTunes again?
The eight-tracks of the Internet?
At the 2009 Blogworld and New Media Expo conference, podcasting pioneer Leo Laporte famously declared, "Podcasting is dead." That's a bit of hyperbole, considering that Laporte's 23 podcasts are downloaded more than 5 million times a month. But Laporte has an established brand in tech circles, and it's a challenge for newcomers to match those stats.

If there's no way to measure who is interacting with your podcast, why do websites like NPR and UNICEF.org still have popular podcast sections that are updated on a regular basis? You may be asking yourself: if they're doing it, why shouldn't we?
The answer is simple. Those podcasts are just another way to publicize a brand's deeply embedded radio presence.
"If you have existing radio programs, there's no reason that you shouldn't podcast them," said Matthew, who preferred that we not disclose his full name. "It takes five seconds."
UNICEF, for example, augments existing news stories on their high-traffic website with radio reports, which, in turn, also go out as podcast episodes. Continue reading →