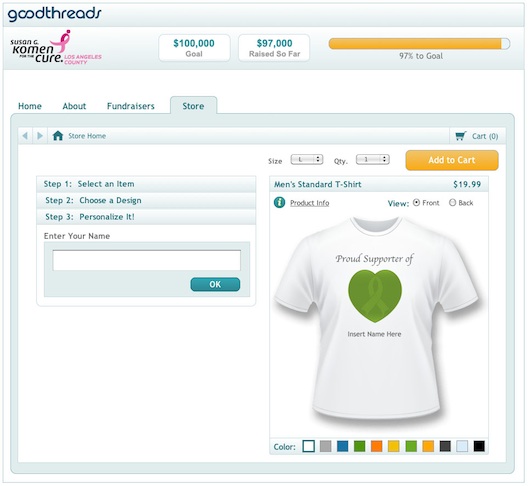 Connecting people to causes through shirts that tell stories
Target audience: Nonprofits, NGOs, cause organizations, social enterprises, brands, fundraising professionals, community managers.
This article is part of our series on social fundraising.
Guest post by Brandon Hance
Founder & CEO, GoodThreads

In 2010 our family lost my aunt Carol to breast cancer. When tragedy strikes, I believe it is part of the human condition to find healing through "the fight" against the culprit – be it disease or disparity. Additionally, surrounding friends and family often rally around those who have been affected and show them support, caring and compassion.

This theory became blazingly clear to me as I watched my mother and close friends train for a 39-mile race to honor my aunt soon after her passing. Not only did they train, but they spent ample time, energy and money creating T-shirts for their team, each with unique messages dedicated to my aunt, and each remembering her in their own distinct way. As I observed this labor of love, I couldn't help but think: There must be a better way to do this — and a way that actually benefits the organization.
Thus, GoodThreads was born, and the idea of connecting people to a cause through "shirts that tell stories" became a reality.
GoodThreads provides nonprofits with a technology that seamlessly integrates into the event registration and donation processes, while supporters are given the tools to create customized merchandise — T-shirts, hats, bags, water bottles, etc. — that allows them to tell their personal story and demonstrate their connection to the cause.
Nonprofit organizations that partner with GoodThreads enable their supporters to buy merchandise that can then be customized with their name, the name of a loved one, photos or other images, and personalized messages. GoodThreads also allows the nonprofit to identify what portion of the item's cost will be donated to its cause. Continue reading →