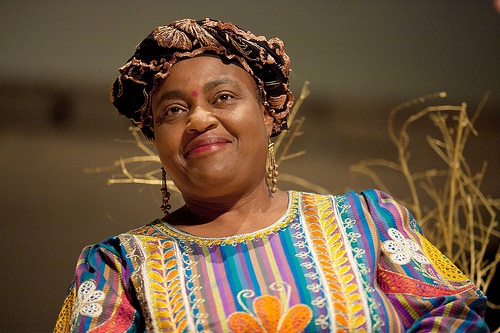 Barbara Guillaume, a human rights activist born and raised in Haiti, at Sustainatopia 2011 (photo by JD Lasica).
SuperGuide to events for nonprofits & social good organizations
Note: See our calendar of 2012 nonprofit and social change conferences.

Following is a roundup of conferences and events scheduled in the nonprofit and social change sector in 2012 with a few related events tossed in as well. This has become an annual tradition here at Socialbrite, and we hope you'll bookmark this page and return to it throughout the year — we'll be updating it throughout 2012 as more conference details firm up.
We'll be reporting on many of these events and invite you to share your coverage or observations on Socialbrite, or let us know and we'll tweet it or Facebook it. Throughout the year you'll be able to see a list of all these events in the weekly Google calendar in the sidebar at the lower right of nearly every page on Socialbrite.
If you know of other must-attend events, please add them by posting in the comments at the bottom. Note that we've also published a calendar of 2012 conferences in social media, tech and marketing on our sister site, Socialmedia.biz.