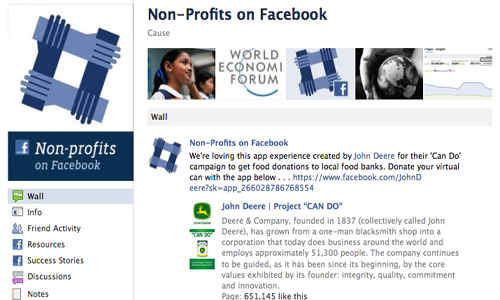 Learn best practices from other nonprofits successfully using Facebook
Target audience: Nonprofits, cause organizations, social enterprises, social media managers, marketing professionals, businesses, brands, Web publishers, individuals.
This is the second part of a two-part series on Facebook apps and resources available to nonprofits. Also see:
• 5 essential Facebook applications for nonprofits
By Lindsay Oberst
Socialbrite staff

With more than 100,000 nonprofit Facebook pages out there, it's clear that many nonprofits already know that the social networking site can be a game changer. Since we often spend more hours on Facebook than with our best friends, we might as well also be using this time for good, right?
If you look around Facebook, many of the existing nonprofit pages don't come close to reaching their full potential. They were created and then left alone, or are used in ways that don't work on Facebook. Of course, if you've had to create or manage a page, you know how confusing it can be.
What page owners need is a resource to help them figure out what works and to give them new ideas when they feel as if they don't have endless amounts of time or money to dedicate to social media. One such resource is the Non-profits on Facebook page, a community that shares information and best practices for social good organizations.
Whether you're new to Facebook, would like to know how to use the site better or are already a Facebook success story, the Facebook nonprofits page is certainly worth "liking" and using if you work to bring positive change to the world.
But once you like it, how else should you use this tool?
First steps for Facebook newbies
(People already using Facebook for their nonprofit might want to skip to the next section.)
The nonprofit page has a tab for nonprofits that are new to Facebook marketing; it's called "Get Started" and contains several downloadable PDF documents:
A quick-start guide, along with a pages manual, to help you understand the basics of a Facebook page and how to create one.
A guide for nonprofits with tips for promoting your page and quick pointers about what types of content you should be posting.
Once you create your page and get the word out to your network about it, you should begin thinking about how you can make your nonprofit Facebook page a success story.
Resources and best practices for nonprofits
A mouse click over to the resources tab on the Non-Profits on Facebook page will show a list of products and tools used to grow and promote a page. Check each of these out and consider their usefulness for upcoming campaigns.
Groups, which can be used to organize niche communities within an organization. To learn more about ways to use this tool including examples, see Socialbrite's guide to making the most of Facebook groups.
Targeted ads to increase awareness and grow subscribers;
Applications for additional content, which are created to be social and encourage participation. The most-used application by nonprofits is Causes, a platform that mobilizes a user's network of friends to grow movements;