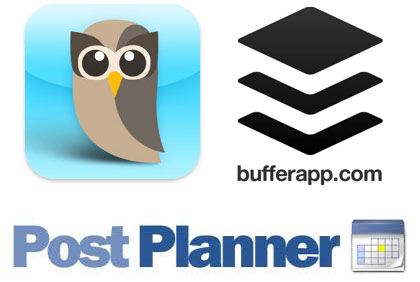 HootSuite, Post Planner, Buffer can provide productivity boost
Guest post by Shonali Burke
VP Digital, MSL, Washington, DC
When it comes to staying on top of social media, one of the big challenges we have is to find the social media tools that will help us achieve a happy medium between curating, listening, engaging and producing content.
Frankly, I think that sweet spot is tough to find, and when we do find it, it stays with us for a while before it goes dancing off into the sunset, leaving us to figure it out all over again.
What to do? There are a ton of tools — and new ones coming out nearly every day — that purport to help us do this. I haven't tested all of them, of course, but of those I have tested, here is what I currently think is the holy trinity of managing social media.
HootSuite: Scheduling updates made easy
1I've been a HootSuite fan for a long time. It's a terrific way to post to a number of social networks, schedule posts and listen in on what's going on, either by creating dedicated searches or creating streams of Twitter lists you've set up.
While I don't use this tool to post to LinkedIn, etc., as much as I could, what I do find very useful, in addition to the publishing/scheduling dashboard, is the ability to monitor and post to Facebook Groups directly from HootSuite: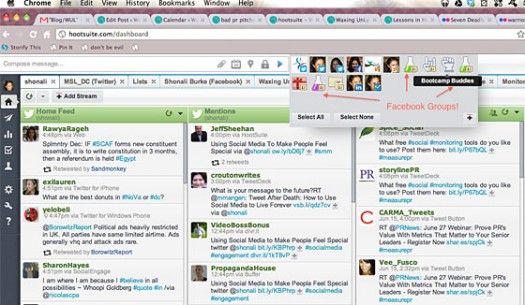 Typically I like to do my Facebook work "in" Facebook, but I know plenty of people who'd rather do all their Facebook management from a third-party app. And this fits the bill.
And just to go back to the scheduling feature, when people ask me to help them promote specific events, fundraisers, etc. I find the easiest way to do so is to schedule a ton of posts in HootSuite. (Assuming, that is, that those are things I want to help promote.) I find this feature very useful; I can simply copy a post and bung it in at various points in the "publisher" view, making minor edits if I want.
So if you are really pressed for time, then I honestly don't know of a better one-stop management shop for the primary social networks than HootSuite.
Post Planner: The easiest way to schedule Facebook updates
2I've also been a fan of Post Planner for a long time. I find the team extremely responsive and the app just superb. Sure, you can post to Facebook from a number of different apps (including HootSuite), but PP rules, in my book, because:
There's nothing like having your own branded footer, as I wrote about a while back.
Even though Facebook has recently introduced the ability to schedule posts, the feature is extremely clunky, and Post Planner makes it a breeze.